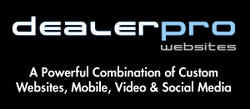 Plano, TX (PRWEB) May 14, 2010
AutoONE Media, one of the automotive industry's premier custom website providers, today launched DealerPRO 3.0, a best in class website admin tool that will quickly become one of the industry standards when it comes to website management for automotive dealers. DealerPRO 3.0 is a true centralized content management solution and was designed to make website management faster and easier and allow dealers to share content and information across multiple pages and sites. Along with centralized content management, DealerPRO 3.0 allows dealers to have onsite management capabilities through an onsite editor and gives dealers fast and easy access to manage inventory, specials, and website content.
"We're one of the first companies anywhere to use Microsoft's Windows Presentation Framework (WPF) in conjunction with Windows Communication Framework (WCF) to administer a Web-based content management system that is Web-deployed using Microsoft's Click Once technology", Robert Gaut, chief technology officer at AutoONE Media. "Not many others have released WPF-based business applications of this caliber. Citrix is a good example of a company that makes excellent use of this technology in their GoToMyPC & GoToMeeting applications."
Windows Presentation Foundation (WPF) is Microsoft's next-generation Windows application platform. It allows for a richer user interface than was previously available with Windows Forms and HTML-based Internet applications. ClickOnce is a Microsoft technology that makes it possible to deploy and install WPF applications onto clients via the Internet. As updates to the application become available, they are automatically downloaded and installed each time the user starts their application. ClickOnce applications are also installed in a "sandbox" – meaning they cannot interact with the user's computer – making them safe to run without having to worry about viruses or other intrusive, untrusted programs.
DealerPRO 3.0 feature highlights:

Centralized Content Management – One platform with one login for multiple sites
Shared Content – Publish and distribute content from one place with a click of a button
Inventory Management – Edit vehicle information & pricing, add or remove vehicles
Vehicle Specials – Automated specials that are tied directly to your inventory
Parts & Service Specials – Create & edit specials on the fly
Onsite Page Editor – Edit page content in real time
Mobile – Smartphone-ready version of your dealership website
Video – Automated integration for Inventory with TrueVoice™ descriptions
Social Media – Toolbar integration that keeps customers in-the-know & on your site
Lead Enhancers – Increase your "website stickiness" with custom pops
Landing Pages – Increase conversion rates with content-focused & lead-enhanced designs
Paid Search Reporting – Full disclosure reporting for pay-per-click marketing campaigns
Website Analytics – Quick & easy access to website & SEO reports
Automatic Updates – Product and feature updates in a matter of seconds
"We are excited about this new launch, and feel that our dealers will benefit tremendously from the new layout & changes. Our goal with this version of DealerPRO was to provide our dealers with an even more dynamic tool, but also allow them to make changes quickly and easily, so they can focus more on selling cars," Juan Carroll, chief marketing officer, AutoONE Media.
About AutoONE Media (http://www.AutoONEMedia.com) AutoONE Media is a privately owned automotive website design and search engine marketing company that focuses exclusively on the automotive industry. Contact us today at (800) 607-8127 to schedule your DealerPRO website demo!
# # #