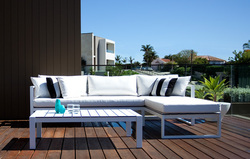 One of the most appealing features of Harbour Outdoor is the drive to ensure nothing short of the highest quality materials, construction and styling while maintaining an eye towards sustainability
Los Angeles, CA (PRWEB) May 17, 2010
Harbour Outdoor International, Australia's leading contemporary outdoor furniture manufacturer, announced today the opening of their North American headquarters and distribution center. With showrooms already in place and presenting Harbour Outdoor furnishings across North America, the new headquarters in Los Angeles will offer the market swift distribution as well as streamlined customer service.
"We are extremely excited to bring quality Australian designed outdoor furniture to the North American market," said Alexander Eburne, CEO Harbour Outdoor North America. "Los Angeles is a perfect location from which to set a foundation. The new location allows us to reach further and farther, quicker and more effectively. Our quick shop program exemplifies this"
Harbour Outdoor will continue to be rooted in its Australian foundation despite its international expansion.
Inspired by Australia's diverse cosmopolitan culture, progressive attitude and quest for innovation, Harbour Outdoor's collections are the first and only Australian designed contemporary outdoor furnishings distributed in North America. Ranging from dining settings and sun lounges to deep seating and custom commercial offerings, Harbour Outdoor's collections of contemporary outdoor furniture offer a diverse selection to suit nearly any environment.
Harbour Outdoor remains focused on including the most innovative, durable, and environmentally friendly materials from around the world in their designs. The sleek lines of the Piano Collection with its aluminium frames and ABET Laminati high-pressure compact laminate (HPCL) impeccably contrast the diffusing glass and teak accents of the Breeze Collection. Sunbrella fabric used in the Coast Collection as well as the Batyline mesh of the Soho Collection ensure that the furnishings will withstand even the most extreme climates.
"One of the most appealing features of Harbour Outdoor is the drive to ensure nothing short of the highest quality materials, construction and styling while maintaining an eye towards sustainability" noted Eburne. "The competitive nature of today's marketplace, not to mention the demands of an ever evolving consumer, calls for products that are unique, embrace quality, longevity and sensible pricing. I am proud to finally bring quality Australian designed furnishings to the North American market," said Eburne.
About Harbour Outdoor
Harbour Outdoor is a contemporary outdoor furniture manufacturer based in Sydney, Australia. Two brothers, Nicholas and Harrison Condos, founded Harbour Outdoor in 2007, drawing from their 30+ years of experience in the furniture industry of parent company Tecno Furniture.
The company has set out to ensure that the global marketplace would learn of the Australian lifestyle, coastal culture and progressive mindset that is echoed through their outdoor furniture designs and offerings. This has resulted in a collection of furnishings able to blend with any different landscape or climate setting, modern as well as classical, outside as well as inside.
Harbour Outdoor offers an array of collections featuring varying styles, colors, finishes and options and intends to launch additional lines and options aimed specifically at the North American market in the coming months. For more information, visit our website at http://www.harbouroutdoor.com or via Facebook at http://www.facebook.com/HarbourOutdoor.
# # #