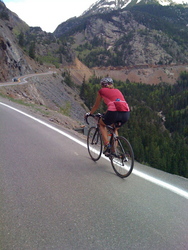 Ouray, Colo. (Vocus) May 14, 2010
Ouray, Colo., the "Switzerland of America," will feel a little more like France this summer when three cycling events roll through town. Ouray has been selected as an overnight stop for the 25th Annual Denver Post Ride the Rockies bicycle tour in June. The Colorado Peace Ride wheels through town in July. And, in September Ouray will play host to the inaugural cycling and beer event called Peaks and Pints.
On Tuesday, June 15, 2,000 cyclists from all over the world will converge on Ouray as part of the 25th Annual Denver Post Ride the Rockies tour. Ride the Rockies is an annual bicycle tour that treks more than 500 miles through the scenic Rocky Mountains. Daily rides range from 35 to 100 miles long. The event is extremely popular and has been sold out since February when more than 4,000 people vied for the 2,000 spots that were selected by lottery.
Being an overnight stop for Ride the Rockies is an economic boon for Ouray, according to Ouray Chamber Resort Association President Karen Avery. Avery says that tour organizers estimate cyclists spent an average of $250,000 in a 24-hour period in each town during last year's event. Avery adds that participants will get a glimpse Ouray as a bike-friendly summer vacation spot and will hopefully come back for a longer stay.
Ride the Rockies participants come into Ouray from Delta on a 67-mile stretch of Highway 550. From Ouray they head to Durango on a 70-mile route that traverses Red Mountain Pass (11,090 feet), Molas Divide (10,899 feet) and Coal Bank Pass (10,640 feet).
The Colorado Peace Ride is a four-day, 238-mile charity ride that begins and ends in Durango and encompasses a portion of the San Juan Skyway that passes through Ouray. Ouray is the first overnight stop on the tour. Riders will travel from Durango through Animas Valley, over Coal Bank and Molas Passes, into Silverton and over the Million Dollar Highway into Ouray. The Sophia Peace Center is the primary beneficiary of the profits generated by the ride. The organization supports non-profits by providing them with free or low-cost retreats in a beautiful retreat center in Dolores. To learn more about the race, for information on registration, or to donate to the cause log on to http://www.thepeaceride.com.
Peaks and Pints is a five-night tour that starts on Aug. 30, covers a little more than 200 miles, and is punctuated with tastings a local brew house each night. The tour begins in nearby Ridgway and continues in a counter clockwise direction around the famous San Juan Skyway. The route includes four mountain passes that climb more than 10,000 feet.
Riders will come into Ouray on Sept. 2 from Durango along a 72 mile route that crosses three major mountain passes and traverses the Million Dollar Highway renowned for its stunning views. The pedal power riders must display to conquer the course will be rewarded with a frosty pint at Ourayle House brewery. That night, cyclists will be able to soak their weary muscles at the Ouray Hot Springs Pool (http://www.ouraycolorado.com/Hot+Springs+Pool), sure to be a welcome relief after days in the saddle! To learn more about Peaks and Pints or to register for the event log on to http://www.peaksandpints.com.
But, you don't have to be an event participant to enjoy Ouray County on two wheels. Offering something for cyclists of all levels, Ouray County is home to a number of back roads and off-road trails. Recreate the routes covered by one of the events mentioned above, or hop on a mountain bike to explore the many off-road trails (http://ridgwaytrails.com/trails/).
Rent a ride at Peak to Peak Bicycles (http://www.peaktopeakbicycles.com), located in neighboring Ridgway, or bring your own. In Ridgway itself you can take the single track that runs right along the edge of town north across Highway 550 to County Road 10. Dallas Trail, at an elevation of about 9,000 feet, is a popular, yet difficult more riding trail. Another challenging route is the eight-mile-long Portland Trail, which is a shorter, yet intense, single track. Imogene Pass/Last Dollar Loop is extremely difficult, long and steep and can take up to 10 hours to complete. If you are enjoying a family trip with children or simply want to take it easy plan a leisurely ride along the river just north of Ouray. The River Road goes all the way into Ridgway and back (approximately 25 miles) and is a scenic route over rolling ranchland.
About Ouray
Located at 7,700 feet above sea level in southwest Colorado, the National Historic District of Ouray is surrounded on three sides by 13,000-foot peaks, earning it the nickname "The Switzerland of America." Ouray is an outdoor enthusiast's paradise, offering rock climbing, hiking, four-wheeling and mountain biking in the summer and ice climbing, backcountry skiing, cross-country skiing and snowshoeing in the winter. To make a lodging reservation and learn more about planning your trip to Ouray log on to http://www.ouraycolorado.com.
Contacts: Gaylene Ore, Ore Communications, 970.887.2536
Karen Avery, Ouray Chamber Resort Association, 970-316-1443
###