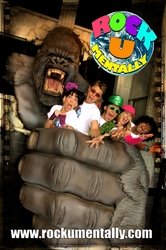 This sponsorship demonstrates our commitment to supporting the community and educating children through unique learning experiences
Branson, MO (Vocus) May 14, 2010
Hollywood Wax Museum in Branson, MO has officially become a Platinum Sponsor of Rock U Mentally. "This sponsorship demonstrates our commitment to supporting the community and educating children through unique learning experiences," said Wax Museum owner Tej Sundher.
The sponsorship enabled Rock U Mentally to add a number of shows to their lineup in Branson, according to the show's creator and producer Bucky Heard. These shows, paired with a visit to the Hollywood Entertainment Center, only add to the list of fun things to do in Branson this summer with your family. The Hollywood Entertainment Center is home to the Hollywood Wax Museum and Branson's two newest attractions, Castle of Chaos and Hannah's Maze of Mirrors.
Plan your trip right, and you and your family will be able to cost-effectively experience three major attractions in Branson and one extraordinary performance that kids and adults will remember for a lifetime.
Start by rubbing elbows with the stars at the Hollywood Wax Museum. Then, head next door to the enormous castle to experience the Castle of Chaos, the world's first 5D-ride-and-game-in-one. The fun doesn't stop there, though. Upstairs, at Hannah's Maze of Mirrors, you'll try to find your way through hundreds of mirrored archways in a gallant quest to unlock the maze from Ugly Hetty's spell and save Princess Hannah.
With the Branson VIP Pass, guests can visit the Hollywood Wax Museum, Castle of Chaos and Hannah's Maze of Mirrors for the discounted price of $24.95 per adult (a $41.85 value) and $14.95 per child (a $23.85 value).
The fun continues when you catch a performance of Rock U Mentally, where your children's creativity will be enticed and their minds will be opened to freely create, learn, understand and explore. Don't miss this hip and educational musical production created to encourage children to embrace creativity, actively seek knowledge and always desire to learn. The catchy lyrics, cool grooves and funky horns are so enticing that kids soon know all the lyrics and learn great concepts. And, don't worry mom and dad, you'll enjoy the production too.
Rock U Mentally performances will take place Thursday to Saturday at Dick Clark's American Bandstand Theater from July 11, 2010 through September 4, 2010. Admission for adults is $16.74 and $11.16 for children ages 5-12.
Branson residents and tourists can have fun, save money and keep their kids learning all summer long.
About Hollywood Wax Museum
Once you step inside the newly-renovated Hollywood Wax Museum in Branson at 3030 West Highway 76, you'll experience a backstage tour of the most famous screen scenes from movies and television and have the chance to step right into the spotlight with the stars. The interactive Hollywood Wax Museum is currently open daily at 8 a.m. All three attractions in the Hollywood Entertainment Center (Hollywood Wax Museum, Castle of Chaos and Hannah's Maze of Mirrors) are open 365 days a year. For more information, call (417) 337-8700.
About Rock U Mentally
Rock U Mentally is a hip and educational music project for kids. Through the use of creatively designed skits, exciting original music, energizing choreography, "larger than life" costumed characters, innovative music videos, two zany mad scientists, colorful puppets, and a powerful educational message, Rock U Mentally teaches children how to be socially and environmentally responsible. To learn more, please visit http://www.rockumentally.com.
###