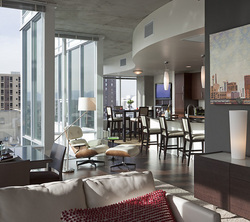 "...the Rocky Mountain Raffle is a unique way for caring individuals to help us continue to support some of Colorado's most vulnerable families." -- John Arigoni, President & CEO, Boys & Girls Clubs of Metro Denver
Denver, CO (PRWEB) May 19, 2010
Would-be homeowners looking for hip, urban dwelling at one of Denver's newest luxury condos, SPIRE, or $1 million cash, can win either in the Rocky Mountain Raffle, a home raffle to benefit Boys & Girls Club of Metro Denver and other Colorado Boys & Girls Clubs. Now through September, tickets can be purchased for $100 (discounts for multiples) online at rockymountainraffle.com or by calling 877-892-2999. The Grand Prize will be announced on September 24. Raffle hopefuls can check out their potential new home at SPIRE, located at the corner of 14th and Champa, on Saturday, May 22, from noon to 2 p.m.
More than 100 total raffle prizes will be awarded and no more than 30,000 tickets may be sold, giving participants a one in 300 (or better) chance of winning a prize of at least $200 in value. The grand prize winner will have their choice of a $1 million cash prize or a two or three-bedroom home on the 41st floor of SPIRE. Situated in the heart of Denver's Theatre District, in walking distance to sports, restaurants, galleries and shopping, SPIRE homes feature incredible views of the Front Range and the best of contemporary city living -- 10-foot ceilings, granite countertops and superior finishes. Amenities include a fitness center, box office, pools and private lounges.
"Boys & Girls Clubs is a community-supported organization with a mission of serving the young people who need us most," says Boys & Girls Clubs of Metro Denver President and CEO John Arigoni. "In times like these, we are challenged with finding innovative ways to raise the funds needed to provide our programs, and the Rocky Mountain Raffle is a unique way for caring individuals to help us continue to support some of Colorado's most vulnerable families."
Raffle proceeds benefit Boys & Girls Club of Metro Denver and other Colorado Boys & Girls Clubs. At Boys & Girls Clubs, children and teens have access to homework help, arts activities, health programs, leadership programs, supervised games and activities, college prep assistance, sports and fitness activities, and guidance from trained, caring adult professionals. Boys & Girls Clubs also support Colorado families by keeping membership fees low and providing all youth, regardless of family income, with access to life-changing programs.
Participants can win multiple prizes by purchasing early, as all entrants will be eligible for all Early Bird Drawings, as well as the Grand Prize of the SPIRE condo or $1 million cash. Players who purchase 3-packs of tickets (save $25) or 10-packs of tickets (save $200) not only have a greater chance of winning in all drawings, but will be entered into a bonus $5,000 drawing open only to multiple ticket holders. Additionally, each time a supporter refers a friend who also enters, both parties are entered into a bonus drawing with a prize of $5,000 to share.
To purchase tickets or get more information about the Rocky Mountain Raffle or Boys & Girls Clubs, visit http://www.rockymountainraffle.com or call 877-892-2999.
###