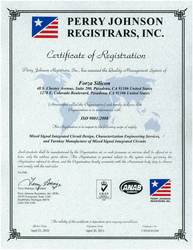 Pasadena, California (PRWEB) May 17, 2010
Forza Silicon Corporation announced today that the Company's Quality Management System was certified to ISO 9001:2008 standards, by the registrar PJR. Forza is a leading designer and fabless turnkey supplier of CMOS imaging chips, as well as other advanced ASIC chips for consumer electronics, medical, biotech, defense and automotive markets.
"As we experience rapid growth in both ASIC design services and custom CMOS chips, our Quality Management System, now certified to international ISO quality standards, will ensure that we have systems in place to provide continuing customer satisfaction," said Hus Tigli, Chairman, CEO and Co-Founder of Forza Silicon.
ISO 9001:2008 standards provide assurance about a company's ability to satisfy quality requirements and to enhance customer satisfaction in supplier-customer relationships. To meet the requirements a company must put in place a set of procedures that cover all key processes in the business including: monitoring processes to ensure they are effective, keeping adequate records, checking output for defects with appropriate and corrective action where necessary, regularly reviewing individual processes and the quality system itself for effectiveness, and facilitating continual improvement . These standards are maintained by the International Organization for Standardization (ISO) and administered by accreditation and certification bodies. ISO 9001:2008 is now firmly established as the globally implemented standard for Quality Management Systems.
About Forza Silicon
Forza is a privately held fabless semiconductor company, specializing in high-resolution, high-speed CMOS image sensors, high-speed communication chips, high resolution data converters and high speed serial interface custom IP blocks. More information can be found at http://www.forzasilicon.com.
Media contact:
Cynthia Guiang
CG Communications
(858) 793-2471
###