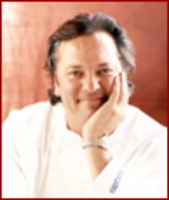 Santa Fe, NM (PRWEB) May 17, 2010
The Museum of New Mexico Foundation (MNMF) is presenting Taste of Santa Fe 2010, a two-day festival benefiting the New Mexico History Museum. The festival begins Friday, July 16th with a Gala "Taste off" and ends Saturday, July 17th, with a Community Tasting event. Gala tickets start at $600 per couple and tickets for the Community Taste event start at $25 for 12 tickets or $50 for VIP.
The Friday night Gala, hosted by Chef John Rivera Sedlar, will be held at the History Museum and will include a 5-star dinner, world class live and silent auction, and an exciting showdown between top New Mexico chefs. Saturday's community tasting event will take place outdoors at Santa Fe's new Railyard Park and will feature 50 restaurants, adult wine garden, and light entertainment.
Chef John Rivera Sedlar, the event's celebrity chef, is a Santa Fe native who literally wrote the book on Modern Southwest Cuisine. His Rivera Restaurant in downtown Los Angeles celebrates Latin food in all its diverse varieties, which opened at the beginning of 2009 to rave reviews and accolades. John Mariani of Esquire Magazine recently named Rivera, "Best LA New Restaurant 2009." Sedlar originally helped define Los Angeles as a dining destination with his inspired cooking at Saint Estèphe, Bikini and Abiquiu.
Les Samuel, Chairmen of the Taste of Santa Fe says, "We are excited to put on our 13th year of Taste of Santa Fe. It is an excellent opportunity for us to showcase the breathtaking city of Santa Fe and our amazing, local culinary talent while raising money for the New Mexico History Museum. We hope this year's festival will be the biggest ever."
Celebrating its 13th year in 2010, Taste of Santa Fe is an annual Fundraiser for the New Mexico History Museum. So far, the two-day event has raised over $250,000 for the cause. Taste of Santa Fe is a voluntary, membership committee which boasts over 60 volunteers. The newest Museum has had over 143,000 visitors since its opening in May 2009. MNMF has the largest museum membership in New Mexico with nearly 13,000 individual members from all 50 states.
To purchase tickets visit, Museum of New Mexico Foundation and for more information, visit Taste of Santa Fe.
###