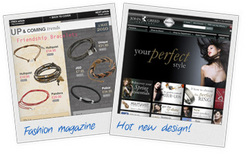 To constantly achieve the best value, best choice and best customer service for jewellery lovers.
(PRWEB) May 16, 2010
The online jewellery retailer, John Greed Design has always offered its customers a wide choice of contemporary, men and women's designer jewellery for many years, offering a wide choice of brands and styles, the underlying company ethics will continue to be a priority as it experiences a brand facelift in time for summer 2010. The Lincoln based e-commerce company has spent considerable time, designing, developing and building a new website packed with usability in mind and assessing the site from the perspective of its users.
As well as reorganising its corporate structure to enhance its existing reputation for quality, choice, value for money and excellent customer service, the domain name http://www.johngreeddesign.co.uk will be redirected to http://www.johngreedjewellery.co.uk on 22nd May 2010, a date signifying the culmination of months of behind the scenes development, testing, promotion and marketing. At this point a new design will be switched on and will be the lead up to some exciting new ranges from top brands and a design which accentuates the glamour, functionality, and style and fashion elements of jewellery.
So what about the name? Well, John Greed Design is changing to John Greed Jewellery to better distinguish the online corporate identity from its other, more traditional projects such as the retail outlets and design concepts. All online e-commerce activities will be conducted under the banner of John Greed Jewellery.
The design enhancement offers improved brand and product navigation, user friendly layouts, stylish promotional graphics and the introduction of our own, in-house, online fashion magazine.
The magazine feature brings information and ideas to customers, enabling them to make informed decisions about the wide range of products on offer. What's hot and what's not, topical tips, fashion coordination tips and the latest up and coming trends.
JOHN GREED; love Jewellery, love Design
###