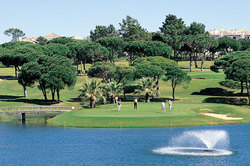 not even a huge thick cloud disrupting transport across Europe can succeed to keep away golfers from these firm, fast and testing greens located in the Algarve
(PRWeb UK) May 18, 2010
It seems that not even a huge thick cloud of dust covering Britain and disrupting transport across Europe can succeed to keep away golfers from these firm, fast and testing greens located in the Algarve.
Located in the Ria Formosa National Park, Pinheiros Altos Golf Resort is one of the most esteemed and successful private golf and leisure resorts in Europe.
It is the appeal of the premier Courses golf calendar that seems to be drawing the crowds, with a variety of tournaments that provide the perfect golfing lifestyles for even the most discerning client!
For many years the golfing resorts of Portugal have been competing with the Spanish links to draw in holiday golfers. Nevertheless its year-round sunshine, miles of golden sand beaches, picturesque villages, and concentration of great courses has helped establish Portugal as one of Europe's elite destinations and Pinheiros Altos Golf Course as a premier golf resort.
Since the courses inauguration in the summer of 1992, Pinheiros Altos Golf Club has gained a reputation as a favourite pre-season practice ground for several of today's top professional golfers, before they embark on the PGA Tour.
Holiday golfers are not only drawn to the large practice ground which includes three putting greens, areas for bunker, chip shots and several greens, but to the extensive range of events from the Summer Medal in July through to Wooden Spoon Mens v Ladies charity event in October.
The fantastic array of tournaments is perfect for those on their Pinheiros Altos holiday who are looking to participate in a tournament with a casual feel; those wanting to play in serious tournaments, and even for guests who just enjoying watching.
Pinheiros Altos' Elite Attraction
Former England rugby international Will Greenwood, MBE has recently advocated Pinheiros Altos as his favourite holiday destination in the Telegraph.co.uk
Commenting, 'the last thing I want to do when I go on holiday is jet halfway around the world, 'What I'm looking for is somewhere warm and sunny by the sea, with a beach for my family and a golf course.'
He added 'That's why I love going to Pinheiros Altos, a golf resort on the Algarve.'
Pinheiros Altos Accommodation
Quite aside from the fairways, the fabulous resort provides the ideal environment in which to relax after a challenging day with an exquisite oasis of properties.
From the very start in the late '80s, holiday accommodation interest in Pinheiros Altos has always been in demand.
Pinheiros Altos Villa accommodation specialists, Select Resorts, boast an exclusive collection of vacation homes in prime areas of the resort ensuring there is always something for every member of the family in proximity.
Select Resorts Marketing Manager Michael Reilly said "Our luxury Pinheiros Altos villas and apartments are a great place to get away and relax, free from the normal hustle and bustle of daily life. Pinheiros Altos is special as it is close to the action but still far enough away to be a haven of relaxation".
For more information about Pinheiros Altos accommodation that can be rented in the Algarve, please contact Select Resorts, 01202 786 490, or visit the Select Resorts website.
Information For Editors:
Select Resorts
Telephone: +44 (0)1202 786490
Select Resorts, have been advising clients for over 25 years in holiday accommodation and property sales abroad. A large proportion of Select Resorts' clients come to the company through recommendation and return time and time again! This is a wonderful achievement that is the result of years of offering an excellent and reliable service.
Some of the most beautiful apartments and villas can be rented through Select Resorts as well as accommodation in exclusive 5 star hotels such as the Gran Hotel Bahia del Duque in Tenerife, the Quinta do Lago Hotel in Portugal and the Hotel La Manga Club - Principe Felipe.
Get Algarve travel information on-the-go with the new Algarve Golden Triangle application for the iPhone, iPod Touch & iPad. The app is newly available to download from the Apple App Store for free!
###