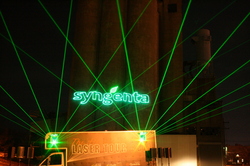 "We're pleased Syngenta was able to combine the Heartland Laser Tour with our Haiti relief efforts.
Greensboro, NC (PRWEB) May 17, 2010
Syngenta announced today a donation of $10,000 to the American Red Cross for the Haiti relief effort, signifying the completion of the Syngenta Heartland Laser Tour campaign which featured the science behind Plant Performance™ and ran between February 16 and April 1, 2010.
"We wanted to bring the science behind Plant Performance to growers in a unique and educational way, while also helping those in Haiti who were left without food or shelter after the earthquake," said Wendell Calhoun, communication manager at Syngenta Crop Protection. "Through advances in science Syngenta can help to better feed the world, but as farmers' know nothing can stop the devastating effects of Mother Nature. We believe donating to help earthquake victims on behalf of the American farmer honors their generosity and persevering spirit."
Kicking off at the 2010 National Farm Machinery Show in Louisville, Ky., and traveling through the states of Illinois, Indiana, Iowa and Minnesota, the Syngenta Heartland Laser Tour highlighted Quilt Xcel™, Quilt® and Quadris® fungicides, while providing an educational and entertaining laser show. Donations for the Quilts for Haiti charity drive were tallied through local attendance, submissions of videos or photos of the local shows, and views of the online laser show. With more than 4,000 people in attendance, and 442 unique online video views and submissions, Syngenta donated $2.00 per person for a grand total of $10,000 to the American Red Cross for the Haiti relief effort.
"We're pleased Syngenta was able to combine the Heartland Laser Tour with our Haiti relief efforts," said Barry Porter, regional executive director at the American Red Cross, Triangle Area Chapter. "This donation will help provide immediate relief and long-term support to the victims in Haiti affected by the earthquake."
Syngenta is one of the world's leading companies with more than 25,000 employees in over 90 countries dedicated to our purpose: Bringing plant potential to life. Through world-class science, global reach and commitment to our customers we help to increase crop productivity, protect the environment and improve health and quality of life. For more information about us please go to http://www.syngenta.com.
Media contacts:
Allison Thiebaud
Gibbs & Soell Inc.
athiebaud@gibbs-soell.com, 919-870-5718
Wendell Calhoun
Syngenta Crop Protection
wendell.calhoun@syngenta.com, 336-632-2649
Related Links:
©2010 Syngenta Crop Protection, Inc., 410 Swing Road, Greensboro, NC 27409. Important: Always read and follow label instructions before buying or using Syngenta products. The instructions contain important conditions of sale, including limitations of warranty and remedy. Quilt Xcel is not currently registered for sale or use in all states. Please check with your local extension service before buying or using this product.
Plant Performance™, Quilt®, Quadris®, Quilt Xcel™ and the Syngenta logo are trademarks of a Syngenta Group Company. The American Red Cross name and emblem are used with its permission, which in no way constitutes an endorsement, express or implied, of any product, service, company, opinion or political position.
Cautionary Statement Regarding Forward-Looking Statements
This document contains forward-looking statements, which can be identified by terminology such as 'expect', 'would', 'will', 'potential', 'plans', 'prospects', 'estimated', 'aiming', 'on track' and similar expressions. Such statements may be subject to risks and uncertainties that could cause the actual results to differ materially from these statements. We refer you to Syngenta's publicly available filings with the U.S. Securities and Exchange Commission for information about these and other risks and uncertainties. Syngenta assumes no obligation to update forward-looking statements to reflect actual results, changed assumptions or other factors. This document does not constitute, or form part of, any offer or invitation to sell or issue, or any solicitation of any offer, to purchase or subscribe for any ordinary shares in Syngenta AG, or Syngenta ADSs, nor shall it form the basis of, or be relied on in connection with, any contract therefore.
###