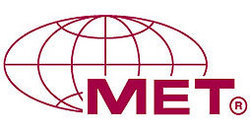 Baltimore, MD (PRWEB) May 17, 2010
MET Laboratories has been awarded a contract by Navigant Consulting to perform side-by-side accuracy testing for Texas smart watthour meters. Testing will begin this week.
Each test will compare the accuracy of two sets of 25 meters that undergo changing temperature and load conditions, according to a test sequence. One set of meters will be solid state smart meters with integrated communication modules. The control set will be electro-mechanical single phase meters.
The testing is on behalf of the Public Utility Commission of Texas, and the transmission and distribution service providers it regulates: CenterPoint Energy Houston Electric, LLC, Oncor Electric Delivery Company, LLC, AEP Texas Central Company, and AEP Texas North Company.
ABOUT MET LABORATORIES: MET Labs is a leader in testing and certifying electricity meters to meet requirements in North America and around the world. MET tests to ANSI C12.1, ANSI C12.20, Measurement Canada LMB-EG-07, and IEC 62052-11, IEC 62053-21, IEC 62053-22 for accuracy; UL 61010 and CSA 22.2 No. 61010.1 for product safety; EN 62052-11, ANSI C62.41, ANSI C37.90.1:1989 & ANSI C37.90.1:2002 for surge testing; ANSI C12.1 for electrical fast transients, electrostatic discharge, radiated immunity, and surge & voltage dip testing.
MET Laboratories is headquartered in Baltimore, Maryland, with office locations in Union City and Santa Clara, California, as well as Shenzhen in China.
For more information about MET Laboratories, please visit http://www.METLabs.com.
# # #