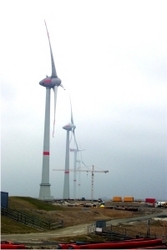 Mr. Colm hopes to share strategies and learn new ways to work together to adapt and compete more effectively while resolving environmental challenges.
Cleveland, OH (PRWEB) May 16, 2010
John P. Colm, president and executive director of WIRE-Net, has been awarded a Comparative Domestic Policy Fellowship by the German Marshall Fund of the United States (GMF). The GMF is nonpartisan American public policy and grant-making institution established in 1972 through a gift from Germany, as a permanent memorial to Marshall Plan assistance, and is dedicated to promoting greater cooperation and understanding between North America and Europe.
The $15,000 fellowship will enable Mr. Colm to investigate several European regions with urban and industrial characteristics similar to Northeast Ohio to determine how manufacturing firms and their associations are adapting to the challenges of globalization, shifting environmental policies, and demand for sustainability. Colm's study of "Manufacturing Sustainable Urban Regions" will take him to Valencia, Spain; Bologna, Italy; Stuttgart and Essen, Germany; and Copenhagen and Arhus, Denmark. Through discussions with manufacturing, economic development, and association leaders, Colm will examine how environmental and economic change at the local and regional level is affecting smaller manufacturers, their associations and resource centers. He will identify strategies that have practical application to Northeast Ohio, and other urban industrial regions across the United States.
Mr. Colm is the founding director WIRE-Net, a non-profit manufacturing-focused economic development organization in recognized internationally for launching innovative initiatives. In 2007, WIRE-Net formed the Great Lakes WIND Network(GLWN) ™ which today is a global wind supply chain network with 1400 wind energy related manufacturers and suppliers serving the growing North American wind industry to support important renewable energy goals. Through his study abroad, Mr. Colm hopes to share strategies and learn new ways that will enable an entrepreneurial, innovative industry association like WIRE-Net to convene its members and government leaders to resolve market failures and work together to adapt and compete more effectively while resolving environmental challenges?
About WIRE-Net:
Founded in 1986, WIRE- builds networks and provides technical services to manufacturing leaders to strengthen their businesses, and to create healthy communities and fuel economic growth. WIRE-Net works with firms in Greater Cleveland, Ohio, and, through WIRE-Net Great Lakes WIND Network (GLWN) ™, companies in 30 states Mexico and Canada. WIRE-Net's core services include: new markets initiatives, manufacturing assistance and innovation programs; peer learning groups, forums, workshops, and plant tours; adult and youth workforce development; and real estate programs to assist companies with site selection, redevelopment, and infrastructure planning. For more information, visit http://www.wire-net.org .
###