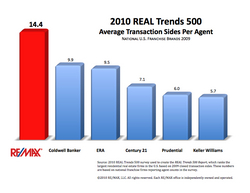 Denver, CO (Vocus) May 15, 2010
The second national survey in as many months shows RE/MAX agents and offices far outperformed all competitors, selling more homes, assisting more families, and leading all other real estate companies in every measurable category. In the 2010 REAL Trends 500 survey, RE/MAX brokerages held 122, or 24%, of the Top 500 positions, with RE/MAX agents averaging an impressive 14.4 transaction sides, 46% higher than the next closest competitor.
"Our agents and offices made a commitment to succeed despite the market, and these numbers prove they did it," says Dave Liniger, RE/MAX Chairman and Co-Founder. "Our agents were challenged a year ago to get specific training so they could tackle the market, and I'm proud to say that RE/MAX agents have helped thousands of families, many facing severe financial problems."
Since March 2009, when Liniger issued the challenge, over 15,000 RE/MAX Sales Associates have earned a distressed property designation from RE/MAX University, the company's on-demand, multi-media educational platform. RE/MAX Associates hold the greatest number of professional learning designations compared to agents of other national real estate brands, and they average the most number of years experience in real estate, with 13.6.
Nearly 40% of the current market consists of distressed properties, including foreclosures and Short Sales, according to the National Association of Realtors®. Liniger believes the trend will continue for at least another year or two. However, with the Treasury Department's new uniform Short Sale procedures that went into effect in April, industry experts are hopeful the process will be easier for both homeowners and agents to navigate. RE/MAX led the lobbying effort in Washington, DC to streamline the process.
In April, The 22nd annual Power Broker Report, from RIS Media ranked 69 RE/MAX brokerages among their Top 300, representing 23% of all ranked brokerages. This showing placed RE/MAX 47% higher than its closest competitor. The complete Power Broker report can be found online at http://www.rismedia.com. The REAL Trends 500 survey can be found online at http://www.realtrends.com.
About RE/MAX
RE/MAX was founded in 1973 by Dave and Gail Liniger. From a single office in Denver, Colorado, it has grown into a global network of nearly 100,000 Sales Associates in more than 75 countries, an international presence greater than any of its competitors. Nobody in the world sells more real estate than RE/MAX.
RE/MAX has been recognized as the leading real estate franchise in the "2009 Franchise Times Top 200," and has also been honored as the top real estate franchise for nine of the last 11 years in "The Franchise 500 Survey," published by Entrepreneur magazine.
Today, all U.S. home listings in thousands of cities and towns can be found at http://www.remax.com, the most visited real estate franchise web site. (ComScore, Jan.-June 2009; Compete.com, Feb. 2008-June 2009; Hitwise, Jan.-June 2009)
RE/MAX is proud of its Premier Community Citizenship, which has raised over $100 million for deserving organizations like Susan G. Komen for the Cure®, Children's Miracle Network and The Sentinels of Freedom Foundation.
For information on RE/MAX please visit: http://www.remax.com or http://www.joinremax.com
Contact:
Shaun White
Vice President, Corporate Communications
RE/MAX
Direct 303-796-3405
shaunwhite(at)remax(dot)net
###