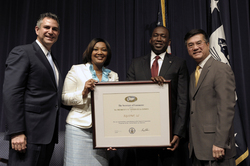 ...exports make up 100 percent of their (EQUIPXP) sales, which have grown dramatically since 2007.
Houston, Texas (PRWEB) May 16, 2010
EQUIPXP, LC®, headquartered in Houston, Texas, is an exporter of heavy equipment for the construction and oil and gas industries. By setting a standard consisting of integrity and perseverance, EQUIPXP, LC® has successfully supplied the needs of businesses in Sub-Saharan Africa and Latin America.
The President's "E" Award recognizes persons, firms, or organizations which contribute significantly in the effort to increase United States exports.
United States Commerce Secretary Gary F. Locke, who served as presenter of the award said, "President Obama's National Export Initiative goal of doubling U.S. exports and supporting two million jobs over the next five years has raised the profile of the importance of exports to our nation's continued economic recovery. EQUIPXP, LC® is being honored today for its achievement in enhancing export growth which helps strengthen our economy and create American jobs."
Secretary Locke went on to say "I want to congratulate you on your achievement and for supporting critical export-related jobs for American workers. President Obama's initiative was designed with one overriding goal: to get people back to work in jobs that provide security, dignity, and a sense of hope for the future. It's businesses like yours, with a proven record of success, that are going to help us meet or exceed that goal."
For more information about EQUIPXP, LC®, or if you would like to schedule an interview with Mr. Vernon Darko, contact 281.286.1338 or email Jigna Patel at jignap(at)equipxp(dot)com.
# # #