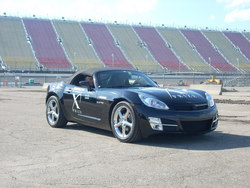 AMP advanced to the Knockout Qualifying Stage by passing the on-track performance shakedown tests conducted at Michigan International Speedway (MIS) in late April.
Blue Ash, OH (PRWEB) May 17, 2010
Advanced Mechanical Products, Inc. (AMP), a company engaged in the all-electric, emission-free conversion of new vehicles, announced today that the AMP electric racer has advanced to the "Knockout" Qualifying Stage of the intense multi-stage Progressive Insurance Automotive X PRIZE competition. The competition will pit some of the world's most fuel efficient vehicles against one another in a quest to win their share of a $10 million prize.
AMP advanced to the Knockout Qualifying Stage by passing the on-track performance shakedown tests conducted at Michigan International Speedway (MIS) in late April. Tests included: 0 to 60 acceleration, braking, durability, as well as a collision avoidance safety test.
Steve Burns, CEO of AMP, stated, "We were pleased that Consumer Reports participated in the qualification of these vehicles during the Shakedown Stage – such intense scrutiny can only serve to further validate these vehicles as safe, reliable and highway capable. "
When the competition started in February 2009, 111 teams from 11 countries applied for entry. In order to advance, teams first qualified by passing a design review and the scrutiny of the X PRIZE judging panel, which includes some of the country's leading engineers. With the Shakedown Stage complete, AMP is one of 22 teams to advance to the Knockout Qualifying Stage of the competition.
Mr. Burns continued, "Our 100% electric conversions of both the well-engineered GM Saturn Sky and full-size the 2010 GM Chevy Equinox are exactly what consumers are wanting to buy - viable super-efficient vehicles that are ideal for everyday use."
The Knockout Stage will commence June 20th at MIS. In order to pass this stage and advance to the Finals Stage of the competition event, AMP must demonstrate that its racer can achieve at least two-thirds of the stated 100 MPGe (miles per gallon or energy equivalent) goal while also meeting expectations for range, emissions, and real world performance. Achieving the emissions thresholds should prove to be a significant hurdle for teams at this stage of the competition.
"The teams remaining at this stage of the event truly capture the entrepreneurial, scientific and technical spirit of the competition. What they bring to the table is nothing short of remarkable - ultra-efficient vehicles that should be readily embraced by consumers," said Dr. Peter H. Diamandis, chairman and CEO, X PRIZE Foundation. "We are at a pivotal moment when promising new technologies, growing consumer demand and global politics make it the ideal time for a radical breakthrough in the cars we drive."
About Advanced Mechanical Products, Inc.
AMP was founded in 2007 by automotive industry veterans who have created several hi-tech companies. Currently, the AMP team is comprised of top engineers and business executives, as well as two key pioneers of GM's EV1 project. AMP's first conversions to all-electric are the GM Saturn Sky and the Pontiac Solstice, and most recently, the Chevrolet Equinox. Since its inception last year, the AMP converted all-electric Saturn Sky has proven itself to be an idea that has generated an extreme amount of interest, with inquiries coming from around the world. AMP will be converting a wide range of GM vehicles to all-electric, and expects to announce new model conversions in 2010. The Company expects its patent-pending vehicle conversion technology will provide new solutions to America's energy demands.
To learn more, visit the AMP website at http://www.ampelectricvehicles.com.
About the Progressive Insurance Automotive X PRIZE
The goal of the Progressive Insurance Automotive X PRIZE is to inspire a new generation of viable, super fuel-efficient vehicles that offer more consumer choices. Ten million dollars in prizes will be awarded to the teams that win a stage competition for clean, production-capable vehicles that exceed 100 Miles per gallon or energy equivalent (MPGe). The Progressive Insurance Automotive X PRIZE will place a major focus on efficiency, safety, affordability, and the environment. It is about developing real, production-capable cars that consumers will want to buy, not science projects or concept cars. This progress is needed because today's oil consumption is unsustainable and because automotive emissions significantly contribute to global warming and climate change. The ten million dollar purse and partial funding for prize operations was provided by Progressive Insurance. Additional major funding for education, outreach, and technical operations was provided by $9 million in grants from the U.S. Department of Energy. Additional funding for prize operations was provided by Cisco and private donors. For more information about the Progressive Insurance Automotive X PRIZE, please visit http://www.progressiveautoxprize.org or email.
Forward-Looking Statements
Certain statements contained in this press release may constitute "forward-looking statements". Forward-looking statements provide current expectations of future events based on certain assumptions and include any statement that does not directly relate to any historical or current fact. Actual results may differ materially from those indicated by such forward-looking statements as a result of various important factors as disclosed in our filings with the Securities and Exchange Commission located at their website (http://www.sec.gov). In addition to these factors, actual future performance, outcomes, and results may differ materially because of more general factors including (without limitation) general industry and market conditions and growth rates, economic conditions, and governmental and public policy changes. The forward-looking statements included in this press release represent the Company's views as of the date of this press release and these views could change. However, while the Company may elect to update these forward-looking statements at some point in the future, the Company specifically disclaims any obligation to do so. These forward-looking statements should not be relied upon as representing the Company's views as of any date subsequent to the date of the press release.
Source: Advanced Mechanical Products Inc.
Information: http://www.ampelectricvehicles.com
###