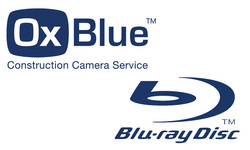 Blu-ray construction time-lapse presentations allow unprecedented archiving and viewing of project progress
Atlanta, GA (PRWEB) May 18, 2010
OxBlue, the industry's leader in construction camera services, is announcing an addition to their product line. Following the recent release of their 8MP construction camera, OxBlue's time-lapse videos are going Blu-ray. The Blu-ray format boasts a 1920x1080 resolution allowing a true HD experience. Clients will now be able to use any HDTV and Blu-ray player to watch time-lapse videos at nearly four times the resolution. Ideal for presentations and large sites, the difference is vivid and impressive.
"When we released the 8 MP camera, we were responding to a demand for a higher resolution time-lapse experience from some of our clients," says OxBlue CEO, Chandler McCormack. "The expansion into the Blu-ray format is a natural continuation in that direction. Our cameras' already impressive resolution capabilities allow us to produce full Blu-ray clarity from any construction camera, at any existing or future site. Clients will be eager to see and display these time-lapse images of their projects to current, as well as future partners."
Offering as much as four times the resolution as that of a standard feed, a Blu-ray time-lapse presentation allows unprecedented access to a project's day-to-day progress. The detailed documentation of a site's activity has never been clearer or more available.
OxBlue maintains its commitment to simple and reliable solutions. All time-lapse video services remain available at standard resolutions. However, every OxBlue time-lapse order can now be updated to full 1080p Blu-ray. All videos are provided via a Blu-ray disc. Time-lapse presentations can be easily accessed and viewed with any Blu-ray compatible device, allowing clients to utilize HD TV's and High Definition monitors.
Founded in 2001, OxBlue is a privately held national construction camera service provider. Focused solely on the needs of the construction industry, OxBlue is committed to providing the most intuitive and reliable hardware, services and customer interaction available. Over the past nine years, OxBlue has set the industry standard in terms of a customer service experience, offering the peace of mind clients seek at every stage of a project. For more information visit http://www.oxblue.com.
# # #