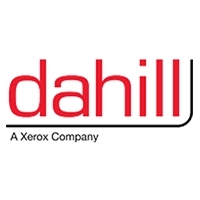 The redesign of the Dahill website creates an environment for wide-ranging resources of all the Dahill products, services and customer care. The website is now a tool and research center for clients, prospective customers and internal employees alike.
San Antonio, TX (PRWEB) May 17, 2010
The newly redesigned website of Dahill, a Xerox company, goes live on the World Wide Web. Dahill aims to extend the reach of all the Dahill services, products and solutions by serving a broad audience of consumers, business owners, professionals and decision makers. The new website features expanded content and streaming media including video clips related to Xerox and product features. The redesign incorporates bold color graphics and completely new navigational tools and integrated social media networking.
"Our online visitors will now experience a more vibrant and seamless view of Dahill and its deep online resources," says David Riener, Vice President of Sales. "The redesign of the Dahill website creates an environment for wide-ranging resources of all the Dahill products, services and customer care. The website is now a tool and research center for clients, prospective customers and internal Dahill employees alike. It will be an ongoing process of improvement and we will be making sure we listen carefully to our customers and employees to keep the website successful."
NEW AND ENHANCED FEATURES
In addition to our online Product Catalogue, the new website offers users information on these products such as technical specifications, online media product demonstrations and downloadable product specific catalogues. The site is organized to provide quick and direct access to all of these resources for all audiences. And if a user is not exactly sure where to look for specific information on Dahill, the newly developed site-wide search engine is a tremendous help.
Amongst the new features on the Dahill home page, are the multiple and easier navigation techniques. Information can now be reached in various easy-to-find ways.

The "Quick Links" sections point website visitors to the direct areas of interest such as meter readings, product information, contact information and customer care.
"Business Solutions" features the Dahill ImageCare, a combination of managed print services and workflow solutions such as DocuShare, a document content management solution that integrates business specific solutions with customer objectives. This feature allows clients to research the possibilities as to how they can solve internal obstacles and improve business processes.
"About Us" provides website visitors access to Dahill executive team profiles, a company history, corporate culture and includes information on current events and news. A daily RSS and news feed has been added as well.
"Customer Service" now offer clients the ability to request a service call, enter their meter readings, order supplies or ask for remote support by simply completing easy to understand online forms.
"Contact Us" has been enhanced to offer a profile page on each one of our branches such as San Antonio, Austin, Houston, Laredo, Corpus Christi, Rio Grande Valley and El Paso. Detailed contact information and turn by turn driving directions makes it easy for people to find Dahill branches and warehouses.
"Social Media" is an entirely new section on the Dahill website that offers visitors the chance to integrate their website research with their own social media networks. Website visitors now have the option to follow and fan Dahill on Facebook, Twitter, LinkedIn and Google Buzz, which will give them the opportunity to stay abreast of the latest news, offerings and events.
DAHILL DESIGN TEAM
The Dahill design team, led by Ronel Uys, has been developing the new design over the past two months, working with staff across Dahill to better support the companies' multifaceted mission. "The new design was created specifically to engage our online audience, offer a research center and provide continuously updated and relevant information with online tools such as social media to allow online viewers to interact," says Web Project Director and eCommerce Analyst Ronel Uys. "Packed with quality information, easy navigation and transparency of information, the new design will help to make the Dahill website an extensive resource that is accessible and attractive to a broad and global audience.
Note: Access the Dahill new website at http://www.Dahill.com.
ABOUT DAHILL
Dahill, a Xerox company is headquartered in San Antonio and wholly-owned subsidiary of the Xerox Corporation. The Texas born and grown document management solutions provider has been dedicated to the local community and its employees since 1988.
Dahill represents the best of both worlds when it comes to your business solutions - the national resources and strength of an $18 billion plus company and the agility and leadership of a locally managed services and support team. Stocking our own inventory, parts and supplies, Dahill continues to sell outstanding printing equipment and software products in our industry. Our focus as a company is our extraordinary methodoly - ImageCare! and our Common Sense Guarantee.
Sign up for DahillOnline at http://www.Dahill.com/Subscribe to receive free monthly highlights of news, events, product offerings and more! You can also visit http://www.Dahill.com/Online to signup, follow and fan Dahill on various Social Media networks and groups.
# # #