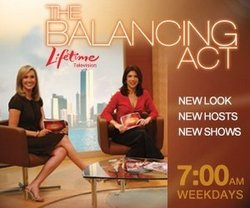 A convenient, delicious, nutritious and affordable meal… it's actually not that hard
Pompano Beach, FL (PRWEB) May 17, 2010
"What's for dinner?" is a question that we face night after night, week in and week out. While anyone can dream up their perfect meal, they might be limited by budget and time constraints. The Balancing Act invites resident chef Jeremy Hanlon to join us in the kitchen to share his creative solutions—using Chicken of the Sea® seafood. Make sure you tune in Monday, May 17th at 7:00am (ET/PT) as we air on Lifetime Television.
"A convenient, delicious, nutritious and affordable meal… it's actually not that hard," according to Chef Jeremy. He contends that simple can still be SUPER and it doesn't have to involve complicated or exotic ingredients. He whips up some great recipes that are made with ingredients all of us are familiar with: seafood.
"Groups like the American Medical Association and the American Heart Association say you should eat seafood twice a week, meaning it's a good idea to look for creative ways to get more into your diet," says Jeremy.
While tuna sandwiches are great, Jeremy gives suggestions for many other tasty, healthy and easy ways to eat fish. He recommends using Chicken of the Sea® seafood because it is healthy, nutritious and convenient. He also tells viewers about the upcoming Chicken of the Sea Super Cook Contest- that includes cash prizes and the chance to have their recipe featured on a package and appear on The Balancing Act morning women's TV show – mom TV.
Plenty of tasty recipes using Chicken of the Sea® seafood will be shared— so don't miss out! For more information and contest details, visit http://www.chickenofthesea.com.
About The Balancing Act: The TV show airs on Lifetime Television at 7:00am (ET/PT) -- and is America's premier morning show that's about women, for women, and trusted by women. Celebrating life and all there is to accomplish, The Balancing Act inspires and empowers with entertaining and educational segments, placing women in the best position to achieve success in every area of their lives. For additional information or to view a segment, visit http://www.TheBalancingAct.com. To sign up for the show's newsletter go to http://www.thebalancingact.com/join.php. For more details about The Balancing Act, LLC please visit parent company O2 Media Inc. at http://www.o2mediainc.com. For Media-Marketing Relations, contact Limor Windt, limor@o2mediainc.com, (954) 691-1102.
Follow The Balancing Act on http://www.facebook.com/TheBalancingActFans, http://twitter.com/BalancingActTV, and http://www.youtube.com/thebalancingact.
# # #