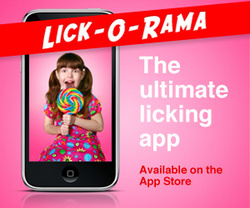 New York, NY (PRWEB) May 17, 2010
Screws Loose, Inc has released the first lickable, tweetable, teasable, customizable application "Lick-O-Rama" to iPhone, iPod touch and iPad users nationwide.
Lick-O-Rama provides the all-inclusive delectable licking experience to satisfy your libacious needs. You will have the ability to lick that oh so ripe strawberry dipped in sweet wet hot chocolate, or to take your time with that perfectly curved banana that's been teasing you all day long. Times are tough, not sure where you next meal is coming from? No problem! Lick your way into the warm middle of a fluffy cupcake and your hunger will be no more.
From Screws Loose R&D: The technology used to create this application is at the bleeding edge of the mobile world. Our patented morphing saliva mechanics are the first of their kind to hit the market.
Check out the Wikipedia page at http://lickorama.wikidot.com/
Watch the world lick things at http://www.lickorama.com
Follow us on Facebook http://tinyurl.com/33ssajl
Watch it on YouTube http://www.youtube.com/watch?v=JXggwRASZU0
It's all a good bit of fun.
Disclaimer: Lick-O-Rama has the following side effects. Excessive saliva formation (along with other bodily fluids,) increased libido, and weight loss.
###