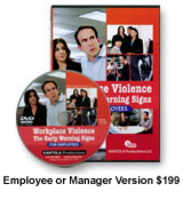 Mill Valley, CA (PRWEB) May 18, 2010
Kantola Productions LLC has released the new DVD "Workplace Violence: The Early Warning Signs." It is one of the latest in Kantola's library of over 125 training programs.
Workplace violence can happen in any size organization, in any industry. Fortunately, since much is now known about workplace violence, tragic incidents can be prevented by paying attention to the warning signs and responding with quick, decisive action.
This dramatic-format training video is available in an Employee and Manager Version with a companion Study Guide for each.
The 17-minute Employee Version details the ten distinct warning signs that can foretell violence and emphasizes the need for employees to speak up and get help if they notice anything that causes concern. The 24-minute Manager Version offers additional content for managers and supervisors, such as how to hold information-gathering meetings, deal with a bully, or terminate a problem employee.
Preview three short "Workplace Violence" video clips at Kantola Productions. Streaming licenses available.
Kantola Productions has offered quality video training on human resources, health and safety, management, communication, customer service, harassment and diversity, and computer training since 1985. It has won national video training awards, including the Telly, the Cine Golden Eagle, and the National Education in Media Network Silver Apple.
# # #