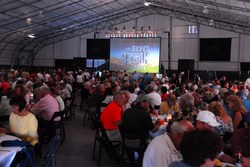 Las Vegas, NV (Vocus) May 15, 2010
Time is running out for entry into the Mesquite Amateur Golf Tournament scheduled May 31-June 4.
Tournament officials said Wednesday that less than 100 spots remain in the event which is entering its eighth year. More than 500 have already entered the 2010 event. Entries will be accepted until May 24.
The Mesquite Amateur golf tournament at six courses May 31-June 4 will attract about 600 competitors with such a strong attraction that it includes several entries from other countries including Canada.
The festive event features dinner parties each evening in the CasaBlanca Event Center.
Sponsored by Golf Mesquite Nevada along with the Mesquite Resort Association, the event will be played at the CasaBlanca, Palms, Falcon Ridge, Oasis Palmer, Oasis Canyons along with The Chase at Coyote Springs southwest of Mesquite.
Sheila Stevenson of Round Mountain, Nev., shot a final round 84 combined to become the first woman to win the tournament last year.
The tournament is the brainchild of Black Gaming Director of Sales Ann Sunstrum.
Those interested in playing in the event receive three rounds of golf, a tee gift and four nightly parties for an entry fee of $525. Further information can be found by visiting http://www.mesquiteamateur.com, http://www.mesquiteamateurblog.com/blog or http://www.golfmesquitenevada.com or by calling Black Gaming Sporting Events Manager Christian Adderson at 888-711-4653, Ext. 51.
# # #