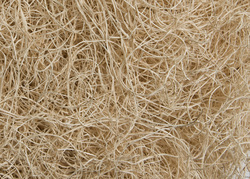 Curlex fibers are all natural and have the unique ability to cling to one another and absorb
Arlington, TX (PRWEB) May 17, 2010
American Excelsior has been producing all natural wood fibers often referred to as "Curlex Excelsior" since 1888 and the fibers are still in use today for applications in ceiling board construction, packaging, display, erosion and sediment control and even as a filter media for oil. Now, there may be a use in oil spills and clean-up.
Since Curlex fibers have a unique ability to cling to one another due to the "barbs" on each curly strand, it helps the all natural biodegradable fibers create an interlocking effect that adds integrity to the finished product. Curlex is available in bale form for applications requiring the material to be spread over open areas or it can be made in varying size rolls up to 16' wide and 550' long or even into log form from 6" to 20" in diameter and up to 20' or longer. Recent observations show that Curlex could possibly be used to help collect oil while in water or placed along shorelines to help protect beaches or sensitive land areas from oil debris. A video of Curlex collecting oil can be seen on YouTube at: http://www.youtube.com/watch?v=3YjZF_5Pn1Y
Ken Starrett, Vice President of Sales and Marketing said, "American Excelsior Company has been producing excelsior for over 120 years and while many synthetic products may have replaced some applications for Curlex excelsior, we continue to find new applications for this unique fiber ever year. Curlex fibers can expand when wet and with its unique barbed fibers, we can create an interlocking matrix, which has opened applications in erosion/sediment control, filtration and now oil collection. Because Curlex fibers are produced from Aspen trees, they are all natural and contain no harmful chemicals and incorporate a special engineered process that allows us to create over 50 variations in fiber thickness and width making it one of the few products on the market today that can claim to be an all natural engineered fiber".
More information about American Excelsior Company or their products can be obtained by visiting: http://www.curlex.com or by contacting: Ken Starrett – Vice President of Sales and Marketing - (817) 385-3500
###