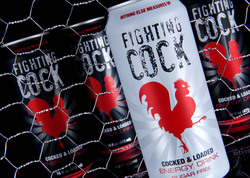 Only decision left for me, which do I choose? The black or the white?
Los Angeles, CA (PRWEB) May 17, 2010
Fighting Cock Energy Drink (FCE) is a concept that was born on the cusp of the energy drink boom that has come to fruition through the convergence of key individuals.
At the helm of FCE are three energetic business professionals with over 30 years of combined sales and marketing success with a vision for a worldwide brand. In addition to the leadership of FCE, strategic alliances embody our framework providing uncommon insight and influence into the beverage and retail industries.
Unique to FCE is its branding ability and power. No other brand on the market has the capacity to seduce the consumer with unavoidable humor that creates a desire for this new, and certain to explode, energy drink.
We are willing to bet that by the time you finish reading this, you will have smiled. Before you can even open a can, someone will notice what you hold and comment.
Before you finish drinking a can, you will have thought of your own advertising slogans. It's contagious, fun, and effortless. Fighting Cock Energy entices a level of consumer interactivity currently unknown to the beverage industry.
Headquartered in Utah, Fighting Cock Energy has already captured a large market share in the short 6 weeks since the start of it's pre-launch. Available to order online through Amazon.com or FightingCockEnergy.com, stop and by and pick some up. Currently offering free shipping to the continental US.
Guaranteed you'll enjoy the taste, and guaranteed you'll share with your friends.
Email: thecock(at)fightingcockenergy(dot)com
http://www.fightingcockenergy.com
###