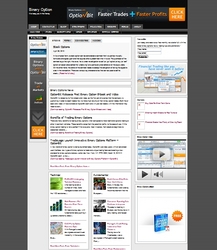 All about Binary options trading in one place - BinaryOption.com
(PRWEB) May 20, 2010
With binary options taking the world by storm and quickly proving to be the best and most popular up and coming style of online financial trading, market enthusiasts are prowling the web for more information about everything from broker reviews and options advice to where to find the most informative e-courses and special offers.
Although there is a plethora of information available, due primarily to the rapidly increasing interest amongst a very broad demographic of traders, only binaryoption.com truly delivers its viewers the full package. What's more is that the website is entirely free and invites causal traders, serious financial players, and investors alike to join their fast growing online community.
A one-stop, comprehensive binary options website filled with everything you could ever want or need to know about the market, binaryoptions.com brings a full dose of daily news, platform reviews, market analysis, trading tips and much more. Instead of having to browse through a multiple anonymous forums or scope out every options site on the web, binary option.com does the homework for you; presenting a unique look and professional feel to market opportunists who simply want more information about what's out there.
Using cutting edge technology developed in house to conduct a broad web-audit of binary options trading sites and other sources of market information, the binaryoptions.com team is constantly looking for ways to gather more information and compile it in the most user-friendly and interactive forum. The sites team includes financial trading professionals, programmers, market analysts, and business intelligence experts. Drawing on years of experience in the markets and high-tech industry, they are constantly searching for ways to better inform their targeted audience and provide the best up to date news on what's happening in the binary options market.
Whether you're a novice to the market and looking for the basics on how to trade, or what the benefits of binary options are over Forex and other more complex financial instruments, binaryoptions.com has the facts. Likewise, for the serious investor that wants to know who the most reputable broker with the fastest execution, best rates, and highest payouts are, all they need to do is read up on visitor reviews. More so, the site encourages full interaction and viewers are invited to add their opinions and experiences to the forum. Alongside articles that cover many topics within the binary options market, visitors to the site will also find educational material, market guides, tutorials, and e-courses.
In short, for those looking to trade the binary options market across the variety of currency, indices, commodity, and stock assets available, the most important thing to know is that the information you are receiving is up to date, reputable and in-line with the worldwide community. There is no better way to stay informed then by seeing what others in the industry are saying, doing, and recommending. If you're looking for that edge in this exciting new market, make sure to check out binaryoption.com and get everything relevant to the new way of financial trading.
###