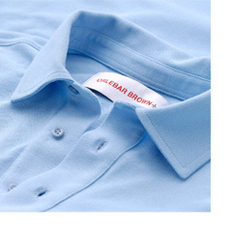 (PRWEB) May 19, 2010
The simplest things are often hardest to find. Take the perfect polo shirt, the kind that haven't really seen since the early '60s - cool, crisp, well cut and chic. 1962 was the year and Dr No, the movie where Sean Connery sealed its fate as the ultimate, laidback classic. Inspired by this, Orlebar Brown are launching a range of polo shirts new for 2010.
Fast forward to 2010 and Orlebar Brown started thinking - It's time to revive a classic, make it live again. So they have re-spun the polo story using Italian fabrics and a distinctly English style. There is real excitement to bring to the market OB Shirts. Orlebar Brown are confident customer's are going to love their classic feel and perfect cut.
To start with there are two polo shirts, a short sleeve and a long sleeve in three colours – white, sky and navy. Unlike today's staple, ribbed version, both lengths have the traditional, shirt-style collar - a classic detail, which gives that iconic, jet set edge. Both have a semicircle baseline, and are longer at the back. The long sleeved polo is finished with a shirt cuff, for extra style and comfort.
Also revived, is another classic, the short sleeve, towelling, polo shirt – open-necked, fitted cut, simple and elegant.
Naturally, all three styles are ideal companions for every OB Short. So now it's possible to complete a cool, chic, style at the beach, the poolside bar and back home.
The long sleeve polo is, £165, the short sleeve is, £145 and the towelling polo, £135. Question remaining: white, sky or navy?
###