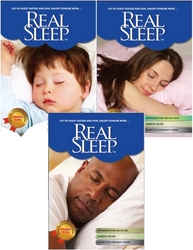 Studies have demonstrated that sedatives don't induce 'normal' sleep. RealSleep works where other products don't because it uses a completely natural approach to sleep: it triggers the motion-induced sleepiness that babies experience when they're rocked.
New York, NY (PRWEB) May 18, 2010
According to the National Sleep Foundation, 40 million American adults have diagnosable sleep disorders. But nearly three times that number -- 60% of adults and 69% of children - report trouble sleeping a few nights a week or more. As a result, helping people get to sleep is now a $23 billion industry. From pharmaceuticals to special pillows and mattresses, from to sleep masks and ear plugs to sound machines, from over-the-counter medicines to sleep clinics - America is trying everything, but with limited success.
"Recent studies have demonstrated that sedatives and hypnotics don't induce 'normal' sleep," said Seth Horowitz, Ph.D., co-founder of NeuroPop Inc. and Assistant Research Professor in the departments of neuroscience and psychology at Brown University. "Sleep is in fact a complex multistage process, and failure to go through all stages of sleep can have just as devastating an effect as being entirely sleepless. And, while 'sleep machines' that play quiet repetitive sounds and music are calming and useful for masking intrusive elements from the environment, they don't actually induce sleep."
NeuroPop Inc.'s just-released RealSleepTM may be the answer many have lain awake dreaming of.
RealSleep is a CD you play while you're going to sleep. Created by Horowitz and award-winning electronic musician Lance Massey, it uses nearly-inaudible sounds embedded in music to help people of all ages go to sleep faster and stay asleep longer.
"RealSleep works where other products don't because it uses a completely natural approach to sleep," said Horowitz. "It triggers the the motion-induced sleepiness that babies experience while being rocked and that most people feel while riding as a passenger in a car or train. The result is a sleep that's natural, easy, restful, and refreshing."
The technology behind RealSleep is based on Horowitz' years of work in hearing, balance and sleep research funded by grants from the National Institutes of Health, National Science Foundation, The Deafness Foundation, and NASA. In the process he came to realize that two sensory systems play major roles in determining sleep cycles: the vestibular system, which not only controls balance but also substantially affects sleep and arousal; and the auditory system, which remains active even in sleep and is the sense that has the most impact under sleep and near-sleep conditions.
To create RealSleep, Horowitz and Massey devised computer algorithms that embed sounds that harness the natural processes of the vestibular and auditory systems into music. The music is what a listener hears, but it's the sounds added to the music by the algorithms that create the motion-induced sleepiness effect.
"This is the next generation of sleep aids," said Horowitz.
In an ad hoc clinical trial, conducted among children and adult patients with active sleeping problems, 77% of people between ages 1 and 62 who used the product went to sleep faster and stayed asleep longer.
A double-blind study is currently underway at Oregon State University, in which participants at Good Samaritan Regional Medical Center will be monitored by machines that will measure their brain waves, heart rate, stress hormones, saliva, and the neurotransmitter oxytocin levels. "We are hoping to get a lot more physiological data and we will be interested in their sleep cycles, because we'll be able to measure their cycles for changes in response to the music," said Sarina Rodrigues, assistant professor of psychology, who will oversee the study.
The response from early users of RealSleep are effusive:
"My wife and I keep long hours, and it's hard for us to settle down when our brains have been going full tilt all day. RealSleep stops the 'chatter' from the day and helps us both wind down so we can get the quality sleep we need."
"We've tried Ferberizing her, the Rye Method but nothing has worked. She refuses to go to sleep and then wakes up throughout the night. The first night we tried RealSleep she fell asleep almost immediately. She woke up once at 11, I soothed her but kept her in the crib, turned the CD back on, and she went right back to sleep. And she slept straight till the morning."
"I often get anxious and have trouble falling sleep. I tried this CD on the recommendation of a friend. Next thing I knew, it was morning and I was refreshed! I don't understand how it works, but it does."
RealSleep is available optimized for the hearing and common sleep issues of three age groups: children from birth to age 18, adults 19 to 39, and adults 40 and over.
RealSleep is sold online at http://www.realsleep.net and Amazon.com and offline through select health care providers for $19.95.
###