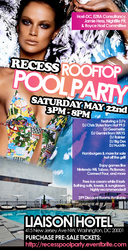 Washington, DC (PRWEB) May 18, 2010
Host-DC, Ezra Consultancy, Jamie Hess, and Royce Host Committee Present Recess Rooftop Pool Party May 22nd at the Liaison Capitol Hill Hotel. Sponsored by Ketel One Oranje and hosted by Nightlife PR, this event is to celebrate the one year anniversary of Host-DC's Recess game night event for adults.
The Washington, DC area's largest game night event for adults is turning one year old and we're inviting everyone out to celebrate with us by hosting a rooftop pool party at the Liaison Capitol Hill Hotel. The hotel's address is 415 New Jersey Ave NW, Washington, DC 20001 and the event hours are from 3:00 p.m. until 8:00 p.m.
Guests are invited to take a dip in the Liaison's luxurious rooftop pool and enjoy playing some of their favorite childhood games such as Monopoly, Taboo, Pictionary, Connect Four, and more while overlooking the sights of Capitol Hill.
A collection of the area's most popular DJ's have been assembled for this special one time event. DJ Chris Styles from Hot 99.5, DJ Gemini from WKYS 93.9, DJ Geometrix, DJ Rainier, DJ Huckfin, DJ Big Des, and DJ Lickashot will all be spinning special thirty minute to one hour sets. Free ice cream will be distributed while it lasts and food will be for sale hot off the grill.
This event is for guests 21 years of age and older and tickets can be purchased by visiting the newly redesigned http://www.host-dc.com or by visiting http://recesspoolparty.eventbrite.com. Towels, bathing suits, and sunglasses are highly recommended and for guests interested in staying at the hotel $99 discount rooms are available.
For birthday parties, cabanas, media requests, and more info please call 202-498-9621. The twitter hashtag for this event is #RecessPoolParty. Follow Host-DC on twitter by visiting http://twitter.com/HOSTDC.
Come join us as we celebrate one year of good times and great fun at the only place where you can party like an adult and play like a kid, Host-DC's Recess!
###