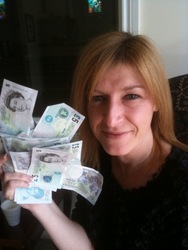 Members are getting paid to lose weight, but they're quickly discovering that the real payoff has nothing to do with money.
Plano, TX (PRWEB) May 18, 2010
In mid-March a weight loss group tried an usual experiment. It began paying its members to lose weight instead of the other way around.
The program is the brainchild of Slimming World, the largest weight loss organization in the UK.
In order to get noticed in the crowded US weight-loss industry, it launched a program called "Pounds for Pounds." They pay members one British pound for every pound of weight they lost. That works out to about $1.50 per pound.
They're just past the halfway mark in their 3-month promotion and they've made a surprising discovery--money isn't as big a motivator as they thought it would be.
"We gave members a choice," explains Slimming World consultant Yvonne Sanders. "They could keep the cash or donate it to a local non-profit adopted by their group. Almost every member is choosing to give the money to charity. It's really very impressive and it says a lot about the kind of caring people we're attracting to our groups."
Slimming World believes that this revealing experiment helps unlock the real secrets to losing weight.
"I'd tried countless diets before and I would end up losing 10 pounds, only to gain 20 back," says Alma Hall, a member who became a consultant after losing 40 pounds on the plan and keeping it off. "This has never felt like a diet because I'm never hungry. In fact, I probably eat more food on this plan than I did when I wasn't dieting at all. The secret is making it a lifestyle and surrounding yourself with others who lift you up."
The company's philosophy is simple: fill up on healthy foods like pasta, potatoes, lean meats, fruits and vegetables and you won't be hungry for anything else. No foods are banned under the plan. It just encourages moderation when it comes to consuming fatty and sugary foods. There are no pills, potions or pre-made meals to buy.
Members are also encouraged to attend a weekly support group where they share recipes and encourage each other to reach their goals.
"I guess we really shouldn't be surprised that the members are choosing to give the money to charity," says Sanders. "These groups are becoming like a second family to the members. Money isn't the real motivator. Members are making healthy choices during the week in part because they don't want to let down their Slimming World family. They want to announce to the group at the next meeting that they've lost another couple of pounds and hear the cheers."
Over the last 40 years the company has helped more than 5-million people in Great Britain lose weight.
They'll continue with the "Pounds for Pounds" campaign until June 20th. At the rate that members are losing weight, each group will be able to present a check for several hundred of dollars to the local charity of their choice.
###