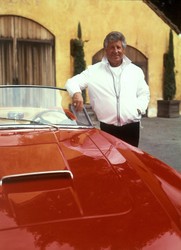 The Carbon Fiber Club is similar to Gilt.com, but for shocks instead of stilettos.
New York, NY (PRWEB) May 17, 2010
Social commerce, flash marketing, private sales – whatever you call them, group buying sites like Gilt.com, RueLaLa ,and Groupon are shaking up the world of e-commerce. But with most of these sites offering spa packages and discount couture, it's unlikely that most guys have taken part. That's all about to change, thanks to the Carbon Fiber Club (CFC), a buying club for automobile enthusiasts that calls itself "The Buying Club for Car Guys."
Racing legend Mario Andretti and other automotive notables announced the formation of the CFC, whose members save on wheels and tires, performance parts, and even driving lessons from Mario himself. "I've driven just about every kind of car there is," says Andretti. "So I can tell you that the Carbon Fiber Club offers something for every kind of car enthusiast. If cars are your passion, you need to join this club."
The CFC, found online at http://www.carbonfiberclub.com, provides members with exclusive deals on car-related purchases. Members get discounts not only on wheels, tires, and performance parts for cars, but also on driving schools, exotic car rentals, race tickets, and other services. "We leverage our members' group buying power to get deals," explains CFC co-founder Robert P. Minnick. The club offers deals from some of the biggest names in the auto business, including Bondurant School of High Performance Driving, Crutchfield, CEC, Skip Barber Racing School, AutoAnything, Billy Boat Performance Exhaust, Champion Motorsport, and more. "If you're a serious car guy, this is a seriously good deal," says Minnick.
A New Kind of Social Commerce
The Carbon Fiber Club is part of the fast-growing private sales business, explains Min Kim, CEO of the club's parent company, Meme Networks. "The Carbon Fiber Club is similar to Gilt.com, but for shocks instead of stilettos. Meme Networks puts a new twist on these members-only e-commerce sites, by targeting high-spend enthusiast communities." Meme's strategy is to create private buying clubs for these enthusiast markets. "What we're really doing is creating more efficient markets by bringing together merchants and members without advertising." The Carbon Fiber Club is Meme Networks' first enthusiast site, but it plans to roll out others in the coming year, says Kim. "We have our sights set on a number of verticals, including motorcycling, hunting, and sailing, that are similar to auto enthusiasts. But with the Carbon Fiber Club, we're taking our business model on a test drive."
Minnick's knowledge of the enthusiast market comes from his own lifelong love of cars. "I've owned all types of cars, from my first 1962 baby blue MGB convertible, to BMWs, Porsches, Ferraris, Corvettes and Benz's," says Minnick. "When it comes to car enthusiasts, advertising is inefficient. You don't need to convince our members to buy, because cars are their passion. You don't need to sell them a product or tell them what to buy, because they've done their homework. They're serious car guys, and they know what they want. We just make sure they get the best deal possible."
Uniting the "Car Guy Nation"
According to SEMA (Specialty Equipment Market Association), there are 25 million car enthusiasts in the U.S., who spend $38 billion a year tuning, restoring, and improving their cars. "There are millions of us car guys and gals, gearheads, auto enthusiasts – whatever you call us, we love our cars." says Minnick. "Our mission at the Carbon Fiber Club is to unite car lovers of all kinds – a 'Car Guy Nation.' Our goal is to sign up a million members." The CFC is offering Charter Memberships, with reduced membership dues, to the first 100,000 to join.
Minnick, a successful serial entrepreneur, has been recognized as the innovator of the gift card format, selling service contracts as blister-packed membership cards more than 25 years ago. Kim has spent her career building and advising early and growth-stage companies in an operational role at an interactive media startup and in strategy consulting and private equity investing.
Mario Andretti, who is Member #0002 of the Carbon Fiber Club, showed off his CFC membership card, made of 100% twill-weave carbon fiber. (Carbon fiber, a composite material with a high strength-to-weight ratio, is used in the manufacture of many racecars.) "Finally," said Andretti, "I have a wallet with some high-performance materials."
# # #