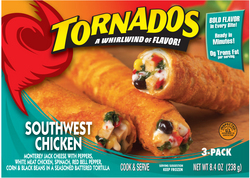 Dinuba, CA (Vocus) May 17, 2010
The number of TORNADOS brand snack food Facebook fans increased by 7 percent to 100,000 in 24 hours through their "100,000 Fan Chowdown" viral Facebook promotion. When Tornados reached the milestone 100,000 fans, it released 100,000 Free boxes of Tornados to fans in the form of a Buy 1 Get 1 Free e-coupons.
The promotion generated the following engagement figures:

880 user submissions
28,591 submission views
20,428 comments and votes
461 wall publishes
Beginning May 13, Tornados Facebook fans were encouraged to participate in two ways:
(1) submit a potential slogan for Tornados and optional photo of themselves enjoying Tornados
(2) rate or comment on submissions by other Tornados Facebook fans to earn points redeemable in the Tornados Chowdown prize vault.
The vault included tens of thousands of dollars in prizes including digital video cameras, TORNADOS branded merchandise, NASCAR tickets, racing school passes, and a meet-and-greet with NASCAR's Ryan Newman.
Tornados – a convenient snack filled with grilled meats, melted cheeses and bold flavors wrapped in a crispy crust – is available in most retail grocery stores nationwide in six bold flavors:

Ranchero Beef & Cheese Tornados
Grilled Chicken & Cheese Tornados
Chicken Club Tornados
Southwest Chicken Tornados
Cheesy Pepper Jack Tornados
Cheesy Pepperoni Tornados
Historically, the TORNAODS brand Facebook fan base has risen rapidly from hundreds of fans last summer to 43,225 fans on Dec. 1, 2009 to over 100,000 today. In five months from Dec. 1, 2009 to April 30, 2010, Tornados drove the following metrics on its Facebook fan page and within branded promotional Facebook applications.
306,955,829 brand impressions
753,794 active interactions
50,364 new fans
A series of six promotional events based around user-generated content has been a main driver of growth and engagement for Tornados. The five events preceding the Chowdown created 5,753 user submissions, 231,528 votes and comments, and 3,950 publishes to wall.
Tornados promotional events are supported by the Idea Challenges application developed by Phoenix-based Bulbstorm.
ABOUT RUIZ FOODS
Ruiz Foods is a privately owned corporation with corporate offices in Dinuba, Calif. Third-generation Kim Ruiz Beck, the elder daughter of Co-Founder and Chairman Emeritus, Fred Ruiz, is chairman. Bryce Ruiz, the elder son, is president and CEO.
Ruiz Foods is dedicated to premium quality, authentically prepared frozen foods selling to all channels of distribution: retail, convenience store, clubs, vending, industrial and foodservice. The Tornado brand, introduced just five years ago, has revolutionized the use of the roller grill in convenience stores and is also available in retail grocery stores nationwide. The El Monterey® brand is the market leader within the frozen Mexican food category and the No. 1 brand of frozen Mexican food in the U.S. Ruiz Foods employs over 2,500 Team Members in three facilities located in the U.S. For more information regarding Ruiz Foods, please visit http://www.ElMonterey.com. For more information about Tornados, please visit http://www.MyTornados.com.
ABOUT BULBSTORM
Bulbstorm Inc. is a leading provider of online innovation communities and marketing platforms and the parent company of Bulbstorm.com. Bulbstorm's mission is to facilitate collaborative innovation between companies and their customers, partners and employees.
Bulbstorm technology and expertise power innovation on social networking sites (such as Facebook) and in custom communities built upon the patent-pending technologies fueling Bulbstorm.com's growth. Founded in 2007, Bulbstorm.com is now one of the world's most popular idea-sharing communities, surpassing combined traffic figures for idea-sharing sites owned by Starbucks and Dell. In 2009, Facebook highlighted Bulbstorm's approach as a model case study for fan engagement on its platform.
Contact:
Pat Summers
559-285-1100
# # #