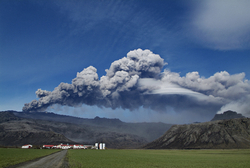 Photographing Iceland in late summer is rewarding. The light is softer, warmer and more dramatic. Every 30 minutes you see totally different light and landscape... In late August, it will be very interesting to photograph the volcano up close... Haukur
Evansville, IN (PRWEB) May 18, 2010
Photograph Iceland's recent volcanic eruption, the remote interior, misty coasts and models in the company of 3 professional photographers on an adventurous small group tour in late August.
This 11 day tour, crafted specifically for photo enthusiasts, is designed to capture Iceland's fiery landscapes, iceberg lagoons, and after effects of the volcanic eruption in the best light of day. Special overnight stays have been arranged in the remote Highlands and along a deserted coast to take advantage of early morning and late night photography of some of the most dramatic geothermal and iceberg scenes in Iceland. The group will trek over uneven terrain on short hikes and travel around the country in a 4x4 built to cross rivers and lava fields, providing off-road access to sites in the Interior Highlands, inaccessible 9 months of the year.
One of Iceland's top nature photographers, Haukur Snorrason, will act as local guide and driver for the group. "The Interior Highland Route is in my opinion among the most varied and spectacular landscapes to be found in Iceland…We will see a mixture of volcanic landscapes, black volcanic sands, mountains, clay, lava, neon green rhyolite, moss, streams, rivers and geothermal heat that mixes with the ice and snow. This whole area is a fiesta for the camera!"
The small group will have ample opportunity to photograph contorted lava crags, bubbling cauldrons, milky blue mineral lakes, geysers, and moonscapes in the Interior Highlands. Elsewhere, waterfalls, grass-roofed farms, Icelandic ponies, sleepy fishing villages, fjords, floating icebergs, glaciers, and blue-tipped icebergs stranded on a black sand beach are focal points before reaching the region where Eyjafallajokull volcano erupted.
The itinerary will be modified to include the eruption site and surrounding farms to see the after effects and reformed lands depending on current volcanic activity. Icelandic landscapes have long lured nature photographers. But this is an opportunity to capture nature in the making. "If it is over in late August, it will be very interesting to get close and photograph melted ice at the edge of the glacier," says Haukur.
According to locals, the recent eruption was not regarded as a major event. Iceland, an island the size of Ohio, has 22 active volcanoes. "It's not the sort of thing that panics us," said Sveinn Palsson, mayor of Vik, a small town partially covered in ash from the latest eruption. Locals regularly practice evacuation plans should the need arise, if and when the larger Katla volcano erupts.
In addition to photographing eruption sites and landscapes, participants will have 2 opportunities to capture local people in their environment. On the first arranged model shoot, a Nordic woman wearing traditional woolens will pose with Icelandic ponies on a turf farm. On the second, a long-haired man will pose in volcanic territory associated with Viking sagas.
Organized by http://www.UniquePhotoTours.com , this trip is open to men and women at all levels of photography. Group size limited to 8. The all-inclusive tour August 27-September 6, 2010 includes all meals, ground transportation, model fees, lodging, photography guidance and demonstrations in the field. Cost is $5,500. To see a complete itinerary visit http://www.uniquephototours.com/itinerary.php?tour_id=52
Unique Photo Tours has also created a separate 7 day extension tour to Greenland that focus on arctic landscapes, seascapes and Inuit culture. Included in the custom itinerary is a special 2 night Inuit family homestay. To view the Greenland itinerary go to http://www.uniquephototours.com/itinerary.php?tour_id=53
About Unique Photo Tours
Launched in 2005, Unique Photo Tours was created to offer exquisite photographic opportunities, distinctive itineraries and unforgettable journeys. The husband and wife owners are photographers who lead small groups to international destinations such as Namibia, Botswana, Cambodia, New Zealand, Iceland, Panama, Yucatan, and Bhutan. Groups are kept small to minimalize impact on the local culture, and to provide an atmosphere conducive for photography discussions or instruction. In February, they started a blog http://www.UniqueTravelPhoto.com to share photographs, stories, and tips on photography.
Contact information
Unique Photo Tours, LLC
Kim or David Walker
877-402-8687
http://www.UniquePhotoTours.com
# # #