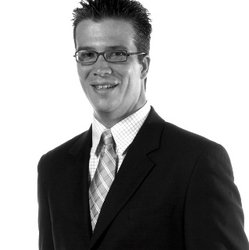 Chesterfield, MO (PRWEB) May 18, 2010
The Net Impact, a St. Louis based, full-service online interactive agency, announces the recent hire of Mark Denk as Vice President of Business Development. Denk is responsible for developing business growth opportunities, building and maintaining relationships with existing clients and prospects, as well as marketing The Net Impact's wide range of services.
"We are pleased to have Mark on board to head up our business development team," said Steve Thomas, President of The Net Impact. "His wealth of knowledge in sales and marketing provides The Net Impact with a unique opportunity to powerfully expand our professional services team. We will leverage Mark's extensive experience to help steer our company's rapid growth."
As Vice President of Business Development, Denk will help oversee The Net Impact's growth and development in sales and revenue. In addition to driving Internet marketing and web design services across The Net Impact's client portfolio, Denk will also be involved in the marketing of The Net Impact's partner product, Auctori, a high capacity, high performance multi-lingual Web Content Management System (WCMS) built for search engine optimization.
Prior to joining The Net Impact, Denk founded Mark Denk Promotions, LLC in March of 2009, to help businesses develop new sales and create innovative marketing campaigns. Clients included Better Life "Green" Cleaning Products, Newco Enterprises and Novaisys. Denk has also previously held the following positions: Account Executive for XG-Advertising, Sales Manager and Walmart Account Manager for Industrial Wire Products, Event Marketing Manager for multiple clients (Animal Planet, Coke~Cola, Pepsi, etc.), Program Operations Manager for Tropic Tours in the U.S. Virgin Islands and as a Travel Director for Maritz Travel Company.
"I am excited to have joined such an established and client-oriented organization, and I am looking forward to working with the wonderful team of people already in place. This will be a high energy year for The Net Impact. The new product offerings create incredible potential, and I am pleased to be a part of it," said Denk.
Denk currently serves as the VP of Programming for the St. Louis Chapter of the American Marketing Association (AMA) and regularly attends other chapter's events, including AdClub St. Louis, Eco Life St. Louis, Gateway Interactive Marketing Associations (GIMA), Missouri Venture Forum, Product Development and Management Association (PDMA), RCGA, River City Professional, St. Louis Business Journal, St. Louis Green, World Affairs Council, World Trade Center and Yellow-Tie International.
In addition to having a part in various area organizations, Denk finds the time to serve on several area charitable, educational and non-profit boards. These organizations include: Connect With...St. Louis, Family Support Network's Marketing Committee, Maryville University's Young Alumni Advisory and Alumni Trivia Night Committees, Washington University's Hatchery Judge and previously applied for appointment to the Missouri Arts Council and Missouri Tourism Commission. Over the years, Denk has volunteered with the Central Institute for the Deaf, Contemporary Art Museum, Focus St. Louis, Fuel for the City, GenNext (United Way), Go St. Louis Marathon, Leukemia and Lymphoma Society, Metropolis, Missouri Botanical Gardens, Shakespeare Festival, St. Louis Ambassadors, St. Louis Art Museum and Zoo and the Young Variety Club of St. Louis.
About The Net Impact®
The Net Impact, a full-service Internet marketing and web design company, is a division of Unidev®. Since 1997, The Net Impact has been a web development leader empowering clients with highly creative search engine friendly websites. Professional services encompass search engine optimization and Internet marketing solutions, Internet strategy development, training and seminars, social media marketing and design, and web design and development. For more information on The Net Impact, please visit http://www.thenetimpact.com, or call (636) 532-4424.
About Unidev®
Unified Development, Inc. (Unidev®) is a diversified IT company, focused on the application of technology to business. Founded in 1990, Unidev® has a long history of successfully meeting the customers' needs with proven, reliable and cost-effective solutions. Unidev® provides productivity applications, custom software development and technology consulting services to both business and government. For more information on Unidev®, please visit http://www.unidev.com or call (636) 532-4424
About Auctori™
Auctori, an innovation of Unidev , is a high capacity, high performance multi-lingual Web Content Management System (WCMS) built for search engine optimization. This turnkey solution gives the user the power to add, edit, and delete pages, content and navigation elements on the user's website instantly. In addition, users have the ability to manage user profiles and settings all within the content management system. For more information on Auctori ™ or for a free demonstration, please visit http://www.auctori.com, or call (888) 629-4672.
###