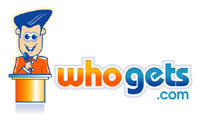 "The SunShineYoga contests on WhoGets.com are a win-win for yoga fans, because not only can they win free gear, but they can be a part of the fun community on WhoGets and there is no catch. It is completely free," said Snapper.
Charlotte, NC (PRWEB) May 19, 2010
People who love yoga gear and fun giveaways have an opportunity to score SunShineYoga gear through Whogets.com contests. SunShineYoga.com is partnering with the community-based website that features online sweepstakes games, allowing site members to decide who wins the prizes.
SunShineYoga prizes currently available through WhoGets.com include the Microclean Yoga Mat, Eco-Friendly TPE Yoga Mat, Mexican yoga blankets and more. Once registered with WhoGets.com, members can enter a contest for any item listed. If the members make it to the semifinal round, they have the opportunity to post a reasons why they should win, and other WhoGets.com members vote on the winner of the prize.
According to SunShineYoga.com Owner Russ Snapper, the contest provides a way for beginner yogis and experienced yogis alike to try out SunShineYoga products for free.
WhoGets.com is continually featuring new products and currently has seven SunShineYoga contests running. Members seeking the yoga gear contests can enter SunShineYoga in the site's search engine to view all of the open contests as well as the winners of previous prizes.
For more information about SunShineYoga's yoga gear and accessories, visit SunShineYoga.com, call toll free 800-316-0806 or send an e-mail to sunshineyogahelp@gmail.com. Customer service is available from 9 a.m. to 5 p.m. (EST) Monday through Friday. For more information about current SunShineYoga contests, visit WhoGets.com.
# # #