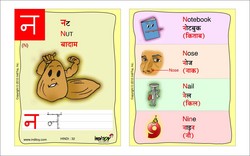 My kids and I love the Marathi flashcards and dry erase mats that we purchased from IndiToy, Inc and their website is always helpful, if we need it
Columbia, MD (Vocus) May 18, 2010
IndiToy, Inc. developed a unique way for people to learn Indian languages of Hindi and Marathi. Their products are educational teaching toys in the form of flash cards, practice charts, and workbooks to write out and sound out the different letters and words without an instructor. What is interesting about these products is that, they are for everyone, are easy to apply, successful, and genuine. And now with their website, http://www.inditoy.com , IndiToy, Inc. provides their customers with e-learning services, so they can go online for pronunciation help, to order their products or to use the additional features such as guided reading, vocabulary exercises, and/or animated musical poetry.
"My kids and I love the Marathi flashcards and dry erase mats that we purchased from IndiToy, Inc and their website is always helpful, if we need it," said Mrs. Manjusha Kulkarni
Recently, IndiToy, Inc. made their television debut on the hit science and technology show, Ahead of the Curve, on ABC News Now. In the show's segment Learn to Speak Hindi Online, they discussed in detail their products and services and the importance of their website and how it aids in the learning process for both kids and adults.
"Excellent, you can hear the pronunciation of these words on the website," said Mr. Steve Portnoy, host of Ahead of the Curve
In an article, New Book on E-learning from the Anadolu Open University, Turkey mentions "E-Learning offers many opportunities for individuals and institutions all over the world. Individuals can access to education they need almost anytime and anywhere they are ready to," which shows that the studying skills of students and adults in different areas such as in math, science and foreign languages will improve using this teaching tool as IndiToy, Inc. is currently accomplishing with Marathi and Hindi languages.
IndiToy, Inc., established in 2009, has continuously maintained their focus and goal to teach kids of any race to learn Hindi and Marathi and broaden their horizons as well as expand their minds to establish a connection with another culture, which in turn can help them in their future plans.
###