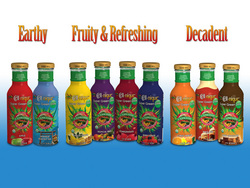 What we choose to feed our bodies every day influences our energy, our moods and our focus. Cell-nique's powerful blend is an inspiration to your health
Weston, CT (Vocus) May 18, 2010
The Green Drink Giveaway has begun.
The Founders of Cell-nique - the Super Green Drink that is loaded with natural fruits and vegetables, seven grams of protein, and no added sugar - are giving away a full week's supply of the ultra healthy drink to one person each week.
The company hopes to encourage people to fuel up for summer fun with healthy energy from the Super Food blend that makes up the drinks' tasty recipe.
"What we choose to feed our bodies every day influences our energy, our moods and our focus. Cell-nique's powerful blend is an inspiration to your health", said Donna Ratner, Cell-nique's Co-Founder.
To register for the Spread the Health Sweepstakes, visit http://www.Cell-nique.com. One lucky winner will be picked each week. There is no limit to how often you enter to win.
Cell-nique is an easy way to energize and get the power your body needs to thrive in order to enjoy all the active outdoor activities summer has to offer. Cell-nique assists in detoxifying and alkalizing the body to naturally enhance spirit, motivation and drive.
The powerful combination of healthy ingredients sustains energy throughout any workout - and helps revitalize the body during recovery, too.
Cell-nique offers three flavor categories – Earthy, Fruity & Refreshing and Decadent, to satisfy the craving for a nutritious, tasty drink any time of day.
Available in nine delicious flavors, each selection of Cell-nique consists of the same alkaline-forming whole super foods that Nourish, Cleanse, Detoxify and Rejuvenate the body with high-energy phyto-nutrients and anti-oxidants.
Every bottle of Cell-nique is vegan, gluten free and low-glycemic. There are no artificial colors, preservatives, or filler juices. It's available throughout the U.S. at Whole Foods, Wegman's, independent health food stores and on-line.
Visit http://www.Cell-nique.com for more information - including Weekly Health Tips, healthy lifestyle articles and more.
###