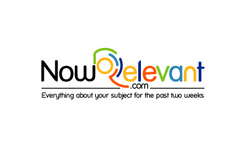 Another definite advantage we have over Google that we have 0.0% junk sites in our organic results, end of story. Nowhere on any other search engine are there as fresh and relevant results from blogs, mailing lists and newsgroups as we do.
Middleton, MA (PRWEB) May 18, 2010
Within one week of the launching of the new search engine, NowRelevant.com, Google has fired back with a new feature of their own. NowRelevant.com, which shows everything about a given subject for the past 14 days recently launched its public beta testing site. Within seven days, Google introduced a new sidebar menu that allows the user to sort results by days, weeks, and hours.
"We had a feeling that Google was waiting for us to go live with our beta before introducing their side bar menu," says NowRelevant.com founder, Curt Dalton. "We were prepared for this move, and it obviously shows that Google saw the same weaknesses in their search results, like spam sites and tons of clutter, that we saw when we designed NowRelevant.com. It actually validates our business model."
NowRelevant.com, which is the engine that runs the niche marketing and trend identifying software known as The Internet Time Machine, was introduced to the public for beta testing on May 1, 2010. The Internet Time Machine software is a complex set of cloud computers that monitors worldwide supply and demand curves in search engines and online communities to find new ideas and products that people are talking about and looking for, but can't find enough suppliers for them.
"By looking at what people want, and then comparing it to what is out there for results, whether, organic results, or ppc results, we are able to identify niches or patterns in the supply/demand curves from around the world before anyone else." says Curt Dalton. "This gives the Internet marketer, or affiliate marketer a tremendous advantage in finding the next 'big thing' or 'hot idea' before anyone else and allows themselves time to position themselves in that market before anyone else, whether by organic pages or an advertising campaign."
The NowRelevant.com advertising system is state of the art as well, allowing advertisers to use video or banner ads in their pay per click advertising campaigns. "We feel people have been really limited by how Google serves their ads to search results. Allowing a video embed or a banner ad to appear next to search results is a huge advantage for advertisers. A picture can say a thousand words, and a short video can say ten thousand words to a possible customer," says Ali Khan, head of technology for NowRelevant.com. "Since the Internet Time Machine software has to filter out all SPAM and SEO DUMMY sites from its results on trends, we are able to eliminate all those same results from our search engine results. Hence, you have a very clean organic results page with no SPAM or clutter."
NowRelevant.com is rapidly picking up fans worldwide. "I've been using NowRelevant over the last couple of days. It's interesting to see the totally different set of results I get when using NR vs Google for the search term - England Cricket. Where NR gave me small blog sites and places I could actually watch the cricket live, Google gives me big corporate sites - It's clear that NR results are More Relevant - which is great," says Daniel Jackson, an Internet marketer from England.
The quality of results is getting stressed more and more by users. "Another definite advantage we have over Google is that we have 0.0% junk sites in our organic results, end of story," says Curt Dalton. "Nowhere on any other search engine are there as fresh and relevant results from blogs, mailing lists, and newsgroups as what we have. We cover millions of sources and have over 67,000 PR6+ blogs that we index daily."
With NowRelevant.com continuing to expand its user base, it has recently added a 20% referral program on all PPC deposits. The search engine will also be soon offering additional features including trend clouds, such as those seen on blog sites which enable users to see what results others are searching for.
###