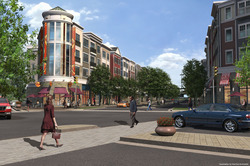 "Metro will literally open doors for many more riders as a result of this project" Washington Metropolitan Area Transit Authority (WMATA) General Manager Richard Sarles
Washington, DC (PRWEB) May 18, 2010
Urban Atlantic and A&R Development Corp., national leaders in real estate development and investment in urban markets, have broken ground on Rhode Island Station, a $107 million public-private, mixed-use, transit-oriented development that will bring 274 Class A apartments, 70,000 square feet of main street retail, and a new Metro commuter garage to the Rhode Island Avenue Metro Station in Northeast Washington, D.C.
Championed by Washington, D.C. Mayor Adrian M. Fenty and the District of Columbia City Council, Rhode Island Station is a precedent-setting public-private partnership. It is the first mixed-use residential and retail development in the nation to combine U.S. Department of Housing and Urban Development (HUD) multifamily financing with U.S. Department of the Treasury New Markets Tax Credit equity.
The May 18th groundbreaking event highlighted the collaborative nature of the public-private partnership with remarks from Mayor Adrian M. Fenty, Ward 5 Councilmember Harry Thomas, Jr., and Washington Metropolitan Area Transit Authority (WMATA) General Manager Richard Sarles. Also attending were senior representatives of HUD and the Treasury, additional City Council members, District agency heads, local community advocates, smart growth proponents, and private sector project participants.
Urban Atlantic President Vicki Davis emphasized the importance of this partnership, stating: "We are thrilled to announce the start of construction at Rhode Island Station and are grateful to the many public and private partners who came together to accomplish a truly remarkable project in an historically challenging economic climate."
The joint venture was awarded rights to the site in 2001 through a competitive solicitation by WMATA. The development process included rezoning and designing the 8.5-acre site to meet the needs of multiple partners, including local community residents, WMATA, the District of Columbia, and regional smart growth organizations. Councilmember Harry Thomas, Jr. (D-Ward 5) played a key role in promoting the redevelopment. "I am pleased that the development team was able to secure financing for this very important project that will spur the revitalization of Rhode Island Avenue and bring much-needed retail to Ward 5," said Thomas.
"Metro will literally open doors for many more riders as a result of this project," said WMATA's Sarles. "It represents the kind of 'Smart Growth' that WMATA has been encouraging for many years as we work to provide our customers with better service and improved facilities." As part of this project, Metro will receive a new secure parking structure for Metro patrons. In addition, funds from the long-term lease of this property will be contributed to WMATA's Transit Investment Infrastructure Fund to assist local governments with transit-related improvements near the Metrobus and Metrorail system.
The project will create a 24-7 town center in the heart of the Rhode Island Avenue corridor on Metro's Red Line. With 70,000 square feet of retail space, Rhode Island Station builds on the success of the adjacent Home Depot-Giant Foods shopping center with a mix of national and local restaurants, neighborhood convenience stores, and a satellite office of the District of Columbia Department of Motor Vehicles. The developers designated ten percent of the retail space to be leased to local businesses in order to ensure that community retailers are able to take advantage of the area's newest retail opportunity. The apartments at Rhode Island Station will offer Class A finishes and amenities, and will include 20 percent affordable units, without any housing subsidies. Two private garages will be constructed along with a new garage for Metro commuters.
This transit-oriented project has been recognized for its smart growth and green design, including immediate access to public transportation, innovative shared parking, walkability and connectivity, a green roof, and energy-efficient systems and building materials. Construction is underway, with the Metro garage expected to open in the summer of 2011 and the retail and residential expected to begin opening in the spring of 2012.
Rhode Island Station is financed by the HUD FHA program; U.S. Department of the Treasury New Markets Tax Credits program; District of Columbia – PILOT financing; US Bank; the Low Income Investment Fund (LIIF); Mid-City Community CDE, an affiliate of Urban Atlantic; and sponsor equity.
Project Team: The project developer is a joint venture of Urban Atlantic and A&R Development Corp. The general contractor is Bozzuto Construction, whose track record in local and minority hiring will help ensure that the project hits its District of Columbia First Source hiring (50 percent) and CBE contracting (35 percent) goals. The retail leasing broker is Asadoorian Retail Solutions; please contact Jeff Handler with leasing inquiries (703.425.0605).
About Urban Atlantic: Strategically focused on urban development, Urban Atlantic has a strong track record of completing complex, large-scale developments. The company has completed real estate developments totaling over $1.1 billion in value, and has placed over $1.3 billion in real estate investments. With one of the largest New Markets Tax Credits allocations in the Mid-Atlantic, Urban Atlantic affiliate Mid-City Community CDE is an investor in Rhode Island Station. Visit http://www.urban-atlantic.com.
About A&R Development Corp.: A&R Development Corp., part of the A&R family of companies, has created more than $1 billion in residential, commercial and mixed-use real estate projects in the mid-Atlantic region since its inception. The firm is known for its careful planning, superior design, architectural and engineering excellence, and relentless attention to detail. Visit http://www.ar-companies.com.
News Media Contact:
Leslie Braunstein
703.234.7762
info(at)lhbcommunications(dot)com
Company Contact:
Vicki Davis, President
Urban Atlantic Development
301.280.6638
vdavis(at)urban-atlantic(dot)com
# # #