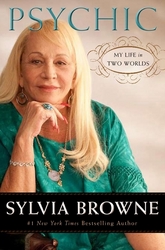 Do good, love God, then shut up and go Home
San Francisco, CA (PRWEB) May 18, 2010
Sylvia Browne is the author of twenty two New York Times bestselling books, including the #1 bestsellers Life on the Other Side and The Other Side and Back. She has been at the forefront of America's obsession with the supernatural, and was one of the first psychics to share her gift openly with the public. Her visions have offered insights into celebrities, aided police investigations, and changed the lives of thousands of people both through her standing-room only events across the country and her many media and television appearances—including one (as herself) on The Young and The Restless.
Now, in PSYCHIC: My Life in Two Worlds (HarperOne; June 2010; Hardcover; $25.99; ISBN 9780061966729), Sylvia Browne reveals the woman behind the headlines. Taking readers from her humble beginnings in Missouri through her rise to a world renowned spiritual guide, she describes in detail the sensations of her first psychic experiences, her initial reluctance to her spirit guide Francine, and the role her beloved Grandma Ada (also psychic) played in helping her find her true path. For the first time she opens up about the legal troubles and health issues that have plagued her. And she also reveals the painful details behind her three failed marriages before Mr. Right finally, impossibly came along.
PSYCHIC is also sprinkled with Browne's characteristically delightful, colorful, and sometimes scary tales of those she has encountered in the Other World—a jilted young woman who resides on the Queen Mary, a mobster inmate trapped in Alcatraz, an embittered ghost unable to face death because he murdered his cheating wife and brother, and many others.
In addition, Browne also reveals:

The prominent people whose lives her visions have saved
The times her beloved late grandmother appeared to Sylvia during crisis; once even saving her life
Why some spirits materialize when others are called
Why more paranormal activity occurs during lightening storms
Her beliefs about the afterlife (if there is such a thing as damnation or hell)
That our purpose in life is to "Do good, love God, then shut up and go Home"
Sure to surprise both fans and newcomers alike, PSYCHIC is the inspiring, true story of a remarkable woman, rich with the wisdom of a life well-lived between two worlds.
ABOUT THE AUTHOR
Sylvia Browne is a spiritual teacher, psychic, and the bestselling author of dozens of books including, The Other Side and Back, The Truth About Psychics. and All Pets Go to Heaven. She is recognized around the world for her psychic abilities, and her gifts have been highlighted on The Montel Williams Show, Larry King Live and many other media outlets. She is the founder of Novus Spiritus Gnostic Christian Church, which celebrated its 20th anniversary in 2006, and she lives in Northern California with her husband.
Advanced Praise for PSYCHIC:
"I have known Sylvia for twenty years, and I have the greatest respect for her. People seek her out for her much celebrated intuitive skills; however, I have sought her out for her friendship and kindness. I applaud her for the peace and solace that she has brought to so many."
— Montel Williams
"An amazing woman, an amazing life, and a book I couldn't put down. Sylvia is a true inspiration."
— Jeanne Cooper, star of The Young and the Restless
"Psychic is a stunning panorama of Sylvia's inner and outer lives, full of the highs, the ordinariness, and the deep despairs that can come with great sensitivity."
— Leigh Taylor-Young
"In Psychic, Sylvia reveals a personal journey that made her one of the world's most renowned and beloved psychics. Her story is as heartbreaking as it is inspiring and courageous. I have no doubt her millions of fans will love her even more for sharing so much of her history with them."
— Caroline Myss, author of Defy Gravity and Anatomy of the Spirit
BOOK TOUR DATES FOR PSYCHIC
May 15, 2010 | Niagara Falls, NY | 8:00pm, doors open at 7:00pm
Seneca Niagara Casino & Hotel
310 4th Street
Niagara Falls, NY
Purchase Tickets: 800-745-3000
May 16, 2010 | Mashantucket, CT | 7:00pm, doors open at 6:00pm
Foxwoods Casino
350 Trolley Line Blvd.
Mashantucket, CT
Purchase Tickets: 800-200-2882
May 26, 2010 | New York, NY | 11:30am to 12:30pm
NEW YORK BOOK EXPO AMERICA Jacob K Javits Center
655 West 34th Street New York, NY
May 26, 2010 | Brooklyn, NY | 7:30pm to 8:30pm
Bookmark Shoppe
8415 3rd Avenue
Brooklyn, NY
May 29, 2010 | Atlantic City, NJ | 8:00pm, doors open at 7:00pm
Trump Marina Hotel and Casino
Brigantine Boulevard & Huron Ave
Atlantic City, NJ
Purchase Tickets: 609-441-2000
June 1 & 2 2010 | Coconut Creek, FL | 8:00pm, doors open at 7:00pm
Seminole Casino Coconut Creek
5550 NW 40th Street
Coconut Creek, FL
Purchase Tickets: 866-222-7466
June 5, 2010 | Atlanta, GA | 8:00pm, doors open at 7:00pm
The Boisfeuillet Jones Atlanta Civic Center
395 Piedmont Avenue NE
Atlanta GA
Purchase Tickets: 404-658-7159
June 8, 2010 | Kansas City, MO | 8:00pm, doors open at 7:00pm
Uptown Theater
3700 Broadway Street
Kansas City, MO
Purchase Tickets: 816-753-8665
June 10, 2010 | Welch, MN | 8:00pm, doors open at 7:00pm
Treasure Island Casino
5734 Sturgeon Lake Road
Welch, MN
Purchase Tickets: 800-222-7077
June 12, 2010 | Chicago, IL | 7:00pm, doors open at 6:30pm
McCormick Place Skyline Ballroom w375e
2301 S. Lake Shore Drive
Chicago, IL
Purchase Tickets: 866-468-3401
June 16, 2010 | Dallas, TX | 8:00pm, doors open at 7:00pm
Lakewood Theater
Dallas, TX
Purchase Tickets: 800-745-3000
June 18, 2010 | Biloxi, MS | 8:00pm, doors open at 7:00pm
IP Casino Resort and Spa
850 Bayview Avenue
Biloxi, MS
Purchase Tickets: 888-946-2847
June 21, 2010 | Tempe, AZ | 3:00 pm
Changing Hands Bookstore
6428 S McClintock Drive
Tempe, AZ
June 22, 2010 | Phoenix, AZ | 8:00pm, doors open at 7:00pm
Celebrity Theatre
440 N 32nd St.
Phoenix, AZ
Purchase Tickets: 602-267-1600
June 29, 2010 | Los Angeles, CA | 7:00pm to 8:00pm
Borders Books & Music - Northridge
9301 Tampa Ave
Northridge (Los Angeles, CA)
July 7, 2010 | San Francisco, CA | 6:00pm - 7:00pm
BOOK PASSAGE
Ferry Building
San Francisco, CA
July 8, 2010 | San Jose, CA | 7:00pm - 8:00pm
Barnes & Noble - San Jose
2200 Eastridge Loop
San Jose, CA
July 10, 2010 | Petaluma, CA | 7:00pm - 8:00pm
Copperfield's Books in Petaluma
140 Kentucky Street
Petaluma, CA
PSYCHIC
My Life in Two Worlds
By Sylvia Browne
HarperOne, an Imprint of HarperCollinsPublishers
June 2010 | $25.99 | Hardcover | ISBN: 9780061966729
###