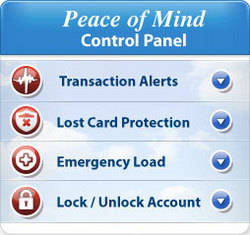 "We developed the Peace of Mind Control Panel in order to specifically give parents an unparalleled level of monitoring and control services that are not typically associated with other standard debit card programs." Jim Collas, Pres/CEO of BillMyParents
San Diego (PRWEB) May 18, 2010
BillMyParents®, the online teen payment solutions company from Socialwise, Inc. (OTCBB:SCLW), premiered today its Peace of Mind Control Panel™ feature that works in conjunction with its teen reloadable prepaid MasterCard®. The proprietary panel enables parents to easily monitor and manage their teens' BillMyParents® reloadable prepaid MasterCard® accounts, and is just one of the unique elements that make BillMyParents® a leader in teen payment solutions and user security for today's fast-paced environment.
"We developed the Peace of Mind Control Panel in order to specifically give parents an unparalleled level of monitoring and control services that are not typically associated with other standard card programs," says Jim Collas, President and CEO of BillMyParents®. "Carrying cash can be risky, and the safety and ease of our reloadable prepaid MasterCard means parents and teens can have ongoing dialogue about financial responsibility while enabling teens a higher level of the independence they yearn for."
The BillMyParents® reloadable prepaid MasterCard® is the prepaid card parents don't have to worry about, and is accepted at over 25 million locations worldwide. Through the Peace of Mind Parents Control Panel™, Transaction Alerts deliver parents a text or email every time a transaction is made, including the name and location of the vendor, the amount of sale, and the remaining balance. Lost Card Protection covers a lost or stolen card, and funds are automatically transferred to the replacement card – completely hassle-free. With Emergency Load, parents can instantly add funds to a card account whether it's for gas for a stranded teen or for last minute movie tickets or meals, and parents have the ability to instantly enable or disable cards using the Lock/Unlock Account feature.
For more information, visit: http://www.billmyparents.com
About BillMyParents®
BillMyParents® provides payment solutions targeted to young people between the ages of 13 and 18. Our solutions include both Supervised Shopping™ and our MasterCard® prepaid card with options ranging from giving parents complete control over purchases to simply monitoring purchase transactions. Our solutions facilitate communication between parents and young people and help teach financial responsibility. For more information: http://www.billmyparents.com.
About Socialwise, Inc.
Socialwise, Inc. (OTCBB:SCLW) is headquartered in San Diego, CA. For more information: http://www.socialwise.com.
About MasterCard Worldwide
MasterCard Worldwide advances global commerce by providing a critical economic link among financial institutions, businesses, cardholders and merchants worldwide. As a franchisor, processor and advisor, MasterCard develops and markets payment solutions, processes over 22 billion transactions each year, and provides industry-leading analysis and consulting services to financial-institution customers and merchants. Powered by the MasterCard Worldwide Network and through its family of brands, including MasterCard®, Maestro® and Cirrus®, MasterCard serves consumers and businesses in more than 210 countries and territories. For more information go to http://www.mastercard.com. Follow us on Twitter: @mastercardnews.
Certain statements contained in this press release are "forward-looking statements" within the meaning of federal securities laws, including, without limitation, anything relating or referring to future financial results and planned business activities. Such statements are inherently subject to risks and uncertainties, which include, without limitation, those in Company reports filed with the SEC. The Company can give no assurance that such expectations will prove correct. Future events and actual results could differ materially from those statements.
###