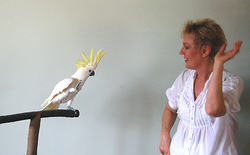 "This is the first year that we will be at the Kane County Fairgrounds Exhibition Hall...we outgrew our previous venue—we were turning down exhibitors and vendors. We are very excited to be able to hold this year's Expo at such a nice facility."
Chicago, IL (PRWEB) May 18, 2010
The biggest stars of the parrot world will be converging on Chicago this weekend. The YouTube viral sensation, Snowball the dancing cockatoo, brainy Alex the African Grey's researcher, Dr. Irene Pepperberg, and Mark Bittner, author and star of the film, The Wild Parrots of Telegraph Hill, will all be appearing at the 2010 Midwest Bird Expo.
Other celebrities include a real-life "Crocodile Dundee"—Australian animal trainer, Mick McAuliffe, Birdology author and best-selling animal book writer, Sy Montgomery, Bill Hoffman and his wild animal show, and for the kids, Brookfield Zoo's very own characters, Polly the Parrot and George the Eagle.
Birds are the third most popular pet in the U.S., and the Expo features important behavior, health, and educational information. There will be free Q&A sessions by leading avian veterinarians dealing with topics like holistic care and wellness, along with bird nutrition and supplies, conservation organizations, rescues, zoos, avian breeders, wild bird products, education stations, bird societies, and much more.
The annual event is organized by The Avicultural Society of Chicago (TASC). "This is the first year that we will be at the Kane County Fairgrounds Exhibition Hall," explains Jason Crean, President of TASC. "We outgrew our previous venue—we were turning down exhibitors and vendors. We are very excited to be able to hold this year's Expo at such a nice facility."
The Midwest Bird Expo is an all-day event targeted to families, people with pet birds, or anyone who is interested in birds. Proceeds from this event will go to the Alex Foundation, the birds of Brookfield Zoo, Lyons Township High School Zoology Club, as well as other animal education and research organizations.
Snowball, the cockatoo, will be dancing at 11:30 am. Dr. Pepperberg, who is continuing her work on parrot intelligence with Griffin, will be holding a special fundraiser and will be signing books and other items from the Alex Foundation (http://www.alexfoundation.org). TASC will also be hosting an "Evening with Dr. Pepperberg", at an extra cost, which will include a dinner and conversation.
The 2010 Midwest Bird Expo will take place in the Exhibition Hall at Kane County Fairgrounds, 525 Randall Road, Saint Charles, Illinois – Saturday, May 22, 9:30am-4pm.
Video promos: http://www.youtube.com/user/tascchicago
Official site and online registration: http://www.midwestbirdexpo.com
Press contacts: Jason Crean TASCCHICAGO(at)aol(dot)com 630.336.0197
# # #