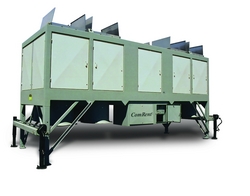 Owings, MD (PRWEB) May 18, 2010
Load banking has long been recognized for providing accurate in-depth testing of electrical power system performance. For drilling and production operations, load banking is employed in the testing of a wide range of components and systems, including engine-gensets, SCRs and VFDs. Even though load banking is the preferred method for advanced electrical systems testing, the equipment has often been difficult to access on a rental basis in key drilling and production areas. Responding to increasing market demand, ComRent® International has established three strategically located facilities in Dallas and Houston, TX and Mobile, AL to support the industry's need for load bank testing equipment. Each of these locations offers a wide selection of load banks along with full product and application support.
A fully integrated load bank rental and services organization, ComRent offers end-to-end logistics support, including delivery, set-up and retrieval of equipment. In addition, the company further supports its customers' testing programs by sharing its load banking knowledge base through technical advisory services. ComRent also provides a full line of ancillary components, including I-Panels, standard power cables, medium voltage Voltloc® cables, switchgear and transformers.
About ComRent® International, LLC
A multiple Inc. 500 honoree, ComRent® International, LLC owns the largest fleet of load banks in North America - more than 2,000 units. The company's load banks, including both resistive and reactive (inductive and capacitive) models, are capable of testing up to 50+ MW. Combining this equipment with a high level of expertise and the convenience of 15 locations across North America, ComRent is well positioned to meet the market's growing demand for load bank rental services.
For more information, visit: http://www.ComRent.com or call 888-881-7118.
# # #