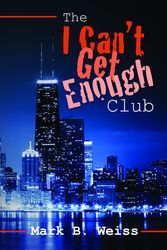 The greed gland, the part of us overlooked in science and anatomy drives this story about two ambitious individuals - involving a brilliant woman driven by the need to win and a powerful man of unparalleled greed
Chicago, IL (PRWEB) May 18, 2010
Real estate expert and author Mark B. Weiss delves deep into the corruption and scandal affecting the banking industry with his fictional novel "The I Can't Get Enough Club" (Benjamin Mandel Publishing). Weiss will be signing copies of his book at Book Expo America, at Jacob K. Javits Center, New York, NY on Wednesday, May 26: 2:30 to 3:00pm at booth 3153 and on Thursday, May 27: 2:00 to 3:00pm in Autographing Area 2.
With recent announcements of bank closures and improprieties in the real estate world, Weiss' edgy fictional mystery novel appears prophetic. If truth is stranger than fiction, then "The I Can't Get Enough Club" will ring true and long.
The greed gland, the part of us overlooked in science and anatomy drives this story about two ambitious individuals - involving a brilliant woman driven by the need to win and a powerful man of unparalleled greed - and what happens when their financial worlds collide.
Endorsed by the Library Journal, "The I Can't Get Enough Club," with Chicago as its backdrop brings the reader inside the smoke-filled back rooms of Chicago's banking, political, and business community with the story of ravenousness corruption and scandal, and what really happened to your community bank. "The I Can't Get Enough Club" is a stylish, page-turning novel.
A graduate of DePaul University, Mark B. Weiss, a CCIM, Certified Commercial Member of the National Association of Realtor, has emerged as one of the country's foremost authorities on real estate. Weiss is a former president of the exclusive Lincoln Park Builder's Club, and served as a member of the Chicago Association of Realtors Board of Directors and chairman of the association's Commercial Committee. Mark B. Weiss is the author of five other books: Secrets of a Millionaire Real Estate Developer: (Kaplan), Real Estate Flipping (Adams Media), Condos, Co-ops, and Town Homes (Kaplan), The Everything Homebuying Book (Adams Media), and The Streetwise Guide to Landlording & Property Management (Adams Media).
"The I Can't Get Enough Club," is now available in paperback and Kindle. For more information visit Benjamin Mandel Publishing: http://www.benjaminmandel.com or contact Kathy Welton of AKA Associates: (773) 636-6410 or kathy@kathywelton.com for author schedule or to request a review copy. Contact ACM PR - TEL: 312 373-1778 for interview requests.
###