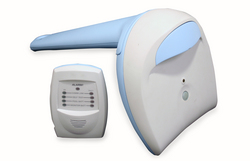 Aurora, IL (PRWEB) May 19, 2010
June is Home Safety Month! First Alert®, the most trusted name in home safety is sharing tips and products to help keep you and your home protected inside and out.
Pool Alarm
Prevent accidental drowning (which affects nearly 300 children under the age of five**) with the new First Alert Pool Alarm. Thanks to its exclusive, patented technology, the Pool Alarm actively listens for sound waves caused by the intrusion of a child or pet, alarming within five seconds. A single alarm can cover an entire pool area (tested up to 40 feet x 40 feet), and it detects a child within five seconds. The device, whose wireless, AC-powered monitor with back-up battery affords users a range of 350 feet, provides constant protection when the unit is in the water. The Pool Alarm self-tests every 90 seconds, uses six AA batteries (provided) and comes with a three-year warranty. Moreover, when the pool is in use and properly supervised by an adult, it's easy to remove the unit from
the water and set it back in place when finished swimming.
Pool Fencing
Safety-enhanced pool fencing provides another layer of protection so that children and animals are kept away from the water. First Alert Steel Security Fencing features high latches, durable rails and pickets, closely-spaced spears and gates that open and swing away from the pool.
Security Cameras
Deemed one of the most frequently occurring property crimes, affecting more than 4.1 million homes in the United States each year,*** property theft may have Americans feeling the need to keep a closer eye on their homes and valuables. Keep constant watch over your home – even while traveling – with First Alert's new line of DIY wireless and wired security cameras. Of special note are the DIY-friendly Digital Wireless Camera with Receiver and Digital Wireless System with 7" LCD Screen. The Wireless Receiver directly plugs into a TV to enable monitoring. Both options are intended for indoor or outdoor use, and the high-performance cameras are perfect for consumers who desire an extra level of security for their home. Cameras feature LED night vision technology, which allows viewing up to 40 feet away, even in the dark. Audio surveillance is built in, too, and a four-channel system allows consumers to add more cameras to their network. The cameras are designed only to record motion, reserving space on the 2 GB SD card for actual movement.
Custom Laser-cut Security Doors by First Alert
In the U.S. Department of Justice's last statistical survey, more than 3.5 million homes fell victim to burglary and over half of those burglaries were accomplished through a weakly protected door or window.* First Alert's security doors provide protective barriers to intrusion and a shield from weather elements. Outdoor Window Guards prevent outside intrusion while the Indoor version provides improved safety from accidental falls. Consumers may order customized laser-cut security doors. Regardless of the frame's dimensions, First Alert can customize the size, shape and color of exterior security and safety doors. Barriers to intrusion first and weather second, First Alert Security Doors provide static force resistance, dynamic force (jerking) resistance and hinge integrity.
First Alert Safes
Each year in the U.S., there are 380,000 residential fires, flooding causes $2 billion in property damage and 4.1 million homes are burglarized*. The fire and safety experts at First Alert have brought to market a treasure trove of fireproof and waterproof safes. Among the newest offerings are the Ready-Seal™ safes featuring a patented lockdown mechanism that is easy to install and ensures protection from theft, fire and water. Unlike many safes, First Alert Ready-Seal safes have a premium built-in anchoring device that bolts the safe to the floor with proper sealing capabilities. The simple installation makes drilling through the safe unnecessary and maintains the integrity of the safe and warranty. Each safe has a five-year warranty and a lifetime after-fire replacement guarantee.
First Alert Shredders
Identity theft is a costly problem, but First Alert's new range of shredders can help protect valuable personal information that can otherwise fall prey to ID thieves. The collection includes compact, 2.9 gallon, six-sheet strip cut shredders to more robust eight- and 10-sheet cross-cut shredders, as well as a 12-sheet cross-cut shredder (pictured) with a 4.8 gallon basket, perfect for the home or office.
First Alert Water Alarm
Prevent leaking or flooding from damaging your home and your valuables. First Alert's new Water Alarm is ideal for any space where a leak or flooding may occur, including near a washing machine, toilet, water heater, dishwasher, sink or fish tank. It's lightweight and compact, but it's loud. The First Alert Water Alarm produces an 85-decibel alarm anytime its sensor come in contact with excessive moisture and can be heard from anywhere in the home. Its six-foot-long extension cord affords consumers the flexibility to reach a remote location.
Smoke and CO Alarms
The National Fire Protection Association (NFPA) recommends installing smoke and carbon
monoxide (CO) alarms on every level of the home and in or near every sleeping area. First Alert
offers alarms with ONELINK® Technology that creates a wireless network of alarms that "talk" to each other.
Fire Extinguishers
Keep a fire extinguisher within easy reach. First Alert's Tundra® Fire Extinguishing Spray
offers a powerful liquid fire fighting agent in a familiar, unintimidating compact spray that is
effective on common household fires including fabric, wood, cooking oil and electrical fires.
For more safety tips, visit http://www.firstalert.com.
*U.S. Department of Justice
** Pool and Spa Submersion: Estimated Injuries and Reported Fatalities, 2009 Report,"
Consumer Product Safety Commission, May 2009
*** According to a 2009 report from the Consumer Product Safety Commission (CPSC)
###