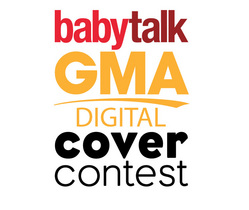 New York, NY (PRWEB) May 18, 2010
Bonnier Corp's Parenting Group, publisher of Parenting and Babytalk magazines, today announced the launch of the 2010 Babytalk/GMA Digital Cover Contest, held in partnership with Good Morning America Digital, the online destination for ABC-TV's Good Morning America. One lucky baby will appear on the cover of the December/January 2011 issue of Babytalk magazine, and take home a $1,000 grand prize gift card from JCPenney, the official retail partner of the Babytalk/GMA Digital Cover Contest.
Between May 18 and July 15, 2010, Babytalk will accept photos online at Parenting.com/Babytalk of all babies between 4 and 24 months on July 15, 2010.
Beginning in late July, the top 64 Cover Contest entrants will be revealed on Good Morning America Digital, and will be narrowed down each week to reveal the top eight semi-finalists in early August. The eight semi-finalists will each receive an all-expense-paid trip with their families to New York City for a professional photo shoot in September. From the photos taken at the shoot, three finalists will be selected to appear on Good Morning America Digital where visitors will vote to choose the winning baby.
The two finalists will each receive a $250 gift card from JCPenney, and the five semi-finalists will each receive $100 JCPenney gift cards. All eight semi-finalists will appear in photo galleries on Parenting.com/babytalk and online at Good Morning America Digital, as well as in a feature spread in the December/January 2011 issue of Babytalk.
"Our annual Cover Contest is consistently Babytalk's most popular program, year after year," said Babytalk editor-in-chief Ana Connery. "All babies are beautiful, but we're looking for that one special photo that just pops right off the screen - a baby full of personality who has a certain something that makes our readers 'oooh' and 'ahhhh!'"
New to Cover Contest this year will be Parenting.com's "Baby of the Week," where visitors to the site will vote for one Cover Contest entrant to be named the Baby of the Week. Upon entry, families will receive social media promotional tags to encourage friends and family to vote their little one to the top. The weekly winners will be featured on Parenting.com/Babytalk as well as on Good Morning America Digital.
Families can enter their babies today by visiting Parenting.com/Babytalk, or by mailing a photo with the official entry form found in the June/July issue of Babytalk, in homes now. No black and white or professional photos will be accepted. Please visit Parenting.com/Babytalk to view official Contest rules. Contest ends July 15, 2010.
For more information, visit http://www.Parenting.com/Babytalk.
Contact:
Victoria Livadas, Babytalk magazine
T: 212.779.5312
E: Victoria.Livadas(at)bonniercorp(dot)com
The Parenting Group
The Parenting Group, home of the Parenting, Babytalk and Conceive brands, reaches moms over 15 million times every month through magazines, digital media, custom content, and events. TPG's publications include: Parenting School Years, for moms with children in kindergarten through elementary school; Parenting Early Years, for moms of infants, toddlers and preschoolers; Babytalk, for new moms and moms-to-be; and Conceive, for women trying to get pregnant. TPG's other media properties include: the Babytalk Pregnancy Planner; the Parenting.com and ConceiveOnline.com web sites; MomConnection®, a nationally-representative online research network; and a custom content unit. The Parenting Group is a division of Bonnier Corporation.
###