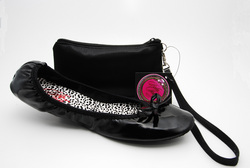 BellaSole founder and designer, Tina Wong, envisioned a shoe which folds in half neatly, that was comfortable and portable, all within a sleek package. But the most important element was this shoe had to be stylish
Los Angeles, CA (PRWEB) May 19, 2010
Introducing a new alternative to walking barefoot after a fun night out on the town in high heels. BellaSole Shoes (http://www.mybellasole.com) offers a line of foldable ballet flats that are designed to be stylish, compact, and super comfortable. Ask any woman and she will tell you that shoes really do complete an outfit. But the price of beautiful and sexy shoes comes not only at the expense of your wallet, but your achy, sore feet as well. Recent studies have confirmed what orthopedists have known for a long time. High heels, whether they're thick or thin, can cause problems in women's knees, their ankles and their feet. For many fashionistas and shoe divas out there, beauty and style triumph over comfort, but now they can have the best of both worlds.
There is a new trend emerging in portable shoe fashion. So what makes BellaSole folding shoes different from the rest? Shoes that are roll-able are not as compact, and the rolling action adds bulge and bulk. BellaSole founder and designer, Tina Wong, envisioned a shoe which folds in half neatly, that was comfortable and portable, all within a sleek package. But the most important element was this shoe had to be stylish. Shoes that you can wear again and again, and WANT to be seen in, even when you aren't suffering from high heel feet pain. Inspired by the timeless style of Audrey Hepburn, Tina wanted to add a modern spin on the classic ballet flat. Also, as an animal lover, it was important for her to use all synthetic fibers, without compromising durability and quality, to achieve this ideal shoe. Clients who have purchased BellaSole shoes wear them during their daily routines, not just as a backup for a night out on the town. Currently for the Spring/Summer 2010 season, BellaSole is offering 4 unique colors of their folding shoe, one of which is guaranteed to match any outfit in your closet.
BellaSole folding shoes is currently available for purchase directly from the BellaSole Online Boutique . BellaSole will also be a featured vendor at Shecky's Girls Night Out event in Los Angeles, CA on May 19-20, 2010.
Contact Details:
Tina Wong
951.254.2661
info(at)mybellasole(dot)com
http://www.mybellasole.com
# # #