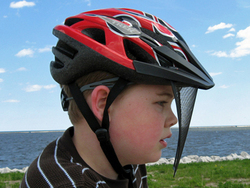 Nikolaus Prusinski says, "It's ugly but effective."
Milwaukee, WI (PRWEB) May 24, 2010
When bicyclists head out for their ride, they always bump into flying bugs. All bikers attempt to dodge these annoying critters by turning their heads, ducking down or even weaving on the trail to miss swarms of mosquitos. Inevitably, everyone ends up eating or being blinded by them. Even worse, bugs stick or sting before they can be shaken off. This is painful and a nuisance to all bike riders. May is National Bicycling Month, making TheBugScreen™ an integral part of spring and summer for all bike riders.
TheBugScreen™ prevents most bug impacts, consumption, inhalation and distraction, making every bike ride dramatically safer and more pleasurable. Riders who attach the new bug screen to their helmets will look and feel awkward initially. Afterwards, riders will recognize the benefits of their purchase. TheBugScreen™ Co-Inventor; Nikolaus Prusinski from Saint Francis, Wisconsin, says, "It's ugly, but effective." Gail Prusinski, GBNpro owner, says, "In twelve years of testing, about 95% of all bugs are blocked by the current design." This new product's development history can be seen on the bottom of the Beta page at the GBNpro website. TheBugSceen™ may be purchased online for $20.00, which includes shipping, handling and taxes.
Future designs may include graphics on the outside of the screen (BugMask™) and come in different colors, other than black. The black aluminum mesh screen and the black BPA free TPE frame are recyclable materials. The bug screen is compatible with adult and child helmets, as well as with glasses. It also provides flexibility to its users with easy on and off Velcro® mounting.
See TheBugScreen™ in action on GBNpro's FAQ page and on YouTube.
Media Contact:
Bob Prusinski, GBNpro.com
bob(at)GBNpro(dot)com
Saint Francis, WI 53235-3741
###