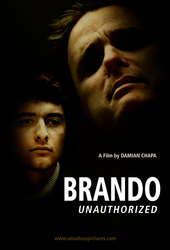 Damian Chapa's Brando Unauthorized "A bold display of emotions.
Hollywood, CA (PRWEB) May 19, 2010
Controversial Director Damian Chapa will begin filming of his Unauthorized feature film about the life of Marlon Brando: July 5th 2010. Amadeus Pictures LLC is Executive producing along with Judith Connolly and Gloria Kisel and Pete Allman.
The film will touch only lightly on his career but dig more deep in to his child hood and his relationship with His Son Christian Brando. Damian Chapa shall also play the lead as Marlon and his son Ricco Chapa as Christian Brando. James Bardo will play the euro trash drug dealer that begins the demise of Brando's son. Brando's mother was an abusive alcoholic and his father was a very promiscuous and disturbed man sometimes abusing Brando leaving him emotionally distraught. Brando's own life reflected a great deal of pain leaving many women behind with anger and hatred towards the Iconic movie star. However Brando is thought of as sometimes the best actor who has ever lived.
Amadeus Pictures head Damian Chapa will direct and star in "Brando Unauthorized.
"It's an intense story we're going to carefully base the film on public domain records," Chapa said. "Brando has always been his favorite actor-and has been wanting to play him every since Chapa found out Brando's love for the American Indian. Chapa's Father is Mexican American however his mother is partially Cherokee Indian.
Chapa states "Brando's life was so interesting" That he even passed on a offer to play Roman Polanski again in Polanski Unauthorized 2 in order to play Marlon brando. "Polanski was a unique part for me, however Brando is so much more interesting.
Pre-Production is set to begin in early 2010.
Media Contact:
Amadeus Pictures
Gloria Kisel
310-923-4356
or 310 600-9904
###