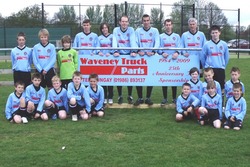 (PRWeb UK) May 19, 2010
Supporting their local football club for the past 25 years with various sponsorship opportunities, leading vehicle parts specialist Waveney Truck Parts marked their 25th anniversary with headline sponsorship of the entire Bungay Town Football Club this year.
Some 20+ teams comprise Bungay Town Football Club ranging from the under 6's to a range of adult teams – catering for ages 4-50. The sponsorship has helped fund valuable developments to the training and sporting facilities including in the past 5 years; a new club house and changing rooms, Astroturf and floodlighting; helping with training as well as interest in the club's teams.
Waveney Truck Parts are also celebrating their 25th year in business this year and see the sponsorship as a fitting way to promote themselves as well as supporting the local community. Brian Smy, managing director of Waveney Truck Parts said, "We have been delighted to be involved with Bungay Town FC and have been excited by their successes this year. As headline sponsor, we receive branding on each of the players shirts across all of the teams and it's a great way to promote our long association with the club."
The leading parts supplier offers an extensive range of spares for truck, trailers and Public Service Vehicles. Two branches in Bungay and Norwich in Norfolk provide the wide range of manufacturer's parts including some for agricultural vehicles. As service is a number one priority, Waveney Truck Parts also holds smaller everyday parts on their fleet of mobile sales vans offering immediate on site service when visiting customers.
Bungay Town FC chairman Jon Fuller said, "Established in 1925 the club has a great history and tradition in the area and has gone from strength to strength in recent years, partly of course due to the help of our sponsors, who are able to provide us with valuable funding to push the club forward. We have been very pleased to have Waveney Truck Parts as headline sponsor and hope to continue our long term relationship."
He continued, "We are delighted to be recognised by the Football Association for the quality of our club, named as a Charter Community Club. We are one of only around 300 football clubs in the country to have this quality kitemark. Community Club status is the pinnacle of the FA Kitemark Quality scheme. It allows parents, players and volunteers to recognise at a glance the very best clubs to join and helps us attract great sponsors such as Waveney Truck Parts."
This season Bungay Town FC had a number of successes across their teams including being awarded the Suffolk Charter Standard Community Club of the Year. In addition the Sunday 1st Team reached Final of their league knockout cup and the last 32 of the national FA Sunday Cup and the Sunday Reserve Team won their league and reached the final of their league knockout cup.
For further information please contact:- Jon Fuller on 01986 893603 or 07876 614617
Log onto http://www.bungaytownfc.org.uk
# # #