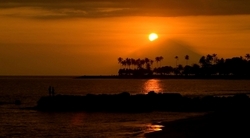 See another side of South East Asia; During the low season, places with heavy tourist traffic take on a whole new identity.
Singapore (PRWEB) May 19, 2010
Agoda, Asia's global hotel booking site and part of Nasdaq-listed Priceline.com, today announces fantastic low season summer deals for some of South East Asia's most beautiful destinations.
The northern hemisphere's high season corresponds with the low season in South East Asia, a time when temperatures soar and rainstorms become a daily occurrence. Many travelers avoid beach vacations during the wet season without realizing the many advantages of visiting South East Asia during this time.
Contrary to popular belief, the low season doesn't mean perpetual rain. In fact, many South East Asian destinations experience monsoon showers for only an hour or two a day, with plenty of sunshine and clear skies to enjoy.
Agoda has produced this guide to traveling Southeast Asia during the low season to help travelers get maximum savings in some of the world's most idyllic tropical locations.
Agoda's Top 5 Reasons to Go Low
1. Great savings. The low season is when hotel room rates are at their most affordable. Low-season rates teamed with Agoda promotions and Rewards Points mean travelers can make their budgets stretch further. Flights are also usually much cheaper compared with high season ticket rates.
2. Fewer tourists. Travelers looking for a quiet, relaxing holiday have a better chance of achieving this during the low season. The people who travel during this time are usually of a similar mindset, seeking a laid back holiday, free of raucous holidaymakers, crowds and queues.
3. See another side of South East Asia. During the low season, places with heavy tourist traffic take on a whole new identity. The frenetic pace of Phuket's Patong Beach and the crowds of Langkawi ease allowing for more tranquil island getaways.
4. Sunshine. Even though it's technically the rainy season, that doesn't mean the sun stops shining. In most places across the region, a downpour only lasts an hour or so before the sun comes out again. Rainfall also brings the temperature down for a while and showers are typically preceded by a cooling breeze.
5. The rain. Whether it's a sun shower, a fierce electrical storm or a torrential downpour, tropical rain during the wet season is an exciting and unique experience. Travelers can take refuge in a café and watch as the drama of a monsoonal downpour unfolds around them.
Where to Go Low
Langkawi, Malaysia
Enjoy: White sand beaches, blue Andaman waters, a rich array of flora and fauna, tax-free status.
Low season: July-October
Weather: Brief daily storms, temperatures around 32C, high humidity.
Langkawi Lagoon Resort – 4 stars
Normal rate USD223. Low season Agoda rate from USD103 per night. Book a Deluxe Hill View Beach Front Room and enjoy a 55% discount.
Boracay, Philippines
Enjoy: The protected eastern side of the island with its calm bays, banana boats, jet skis, bars, beachside restaurants and parties.
Low season: June-October
Weather: Short rain showers, humidity and sunshine.
The Strand Boracay – 4 stars
Normal rate from USD78. Agoda rate from USD52 per night. Get one night free! Pay 2 nights, stay 3 nights. Valid from June 15 2010 – October 15 2010.
Monaco Suites – 5 stars
Normal rate from USD 150. Agoda rate from USD127.50. Book 30 days in advance and enjoy 15% discount. Minimum stay 3 nights. Valid from June 1 2010 – September 30 2010.
Lombok, Indonesia
Enjoy: Pristine forests, volcanic mountains, warm blue waters, the Gili Islands.
Low season: October-March
Weather: Sunny with afternoon thunderstorms and humidity.
Puri Mas Boutique Resorts & Spa
Normal rate from USD205. Agoda special rate from USD82. Rate includes breakfast.
Cebu, Philippines
Enjoy: Swaying palms, hiking, wildlife, historic Spanish architecture, day trips to Mactan Island.
Low season: June-October
Weather: Temperatures from 24-30C, intermittent showers, lots of sunshine.
Badian Island Resort – 5 stars
Normal rate from 149 USD. Agoda rate from USD127.71. Get one night free! Pay 6 nights, stay 7 nights. Valid until December 2010.
Phu Quoc, Vietnam
Enjoy: Undeveloped, tranquil beaches, the Gulf of Thailand, mountains, waterfalls, fresh seafood.
Low season: April-June (July-September can be very rainy)
Weather: High humidity, temperatures around 35C, daily showers.
Saigon Phu Quoc Hotel – 4 stars
Special Agoda rates from USD78. Book a minimum stay of 3 nights and enjoy 15% discount. Valid until October 31 2010.
For more information, contact PR(at)agoda(dot)com
###