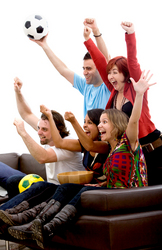 (PRWeb UK) May 20, 2010
In a recent survey of visitors to the TopCashBack website, it came as no surprise that England were the World Cup favourites, ahead of Brazil and Spain.
Visitors to the TopCashBack website (http://www.topcashback.co.uk) were asked who would win the World Cup and also asked what plans they were making, where they would be watching the games and what they might buy to add to their enjoyment of the tournament.
Almost two thirds of those who responded planned to watch the World Cup, most of them on TV in the comfort of their own home, 37% planned to watch every game they could. One lucky fan has made plans to go to South Africa and wave the flag for England in person.
TopCashBack's members save money on everything they buy online and the survey revealed that while almost everyone planned to spend money on food and drink, 10% were intending to buy a new TV and 17% would be splashing out on team strip or other related clothing to show their support. Several respondents even planned to buy a blood pressure monitor.
The majority (9 out of 10) who responded to the survey were England fans and most of them were TopCashBack members who planned on using the site to earn cashback on their purchases, indicating an average spend of up to £250.00 for the World Cup celebrations alone.
TopCashBack is free to join and is proud to pass on at least 100% of the cashback it receives from more than 2,200 retailers – to its members.
Of those who don't plan on watching any of the World Cup, almost all claimed their home was a "football free zone"; only 9 had booked a holiday to avoid it all.
Duncan Robb, Head of PR at TopCashback said:
"We expected most of our members to support England but the fact that so many have predicted England to win, shows great faith in the team, we hope they'll all enjoy the competition safe in the knowledge that they will have saved money by being TopCashBack members"
###